Featured Article - Suzy's Pepperspray Recipe
By Suzanne MacNevin - December 2012.
"If every woman in the world carried a secret bottle of pepperspray on her there would be a lot less rapes." - Suzanne MacNevin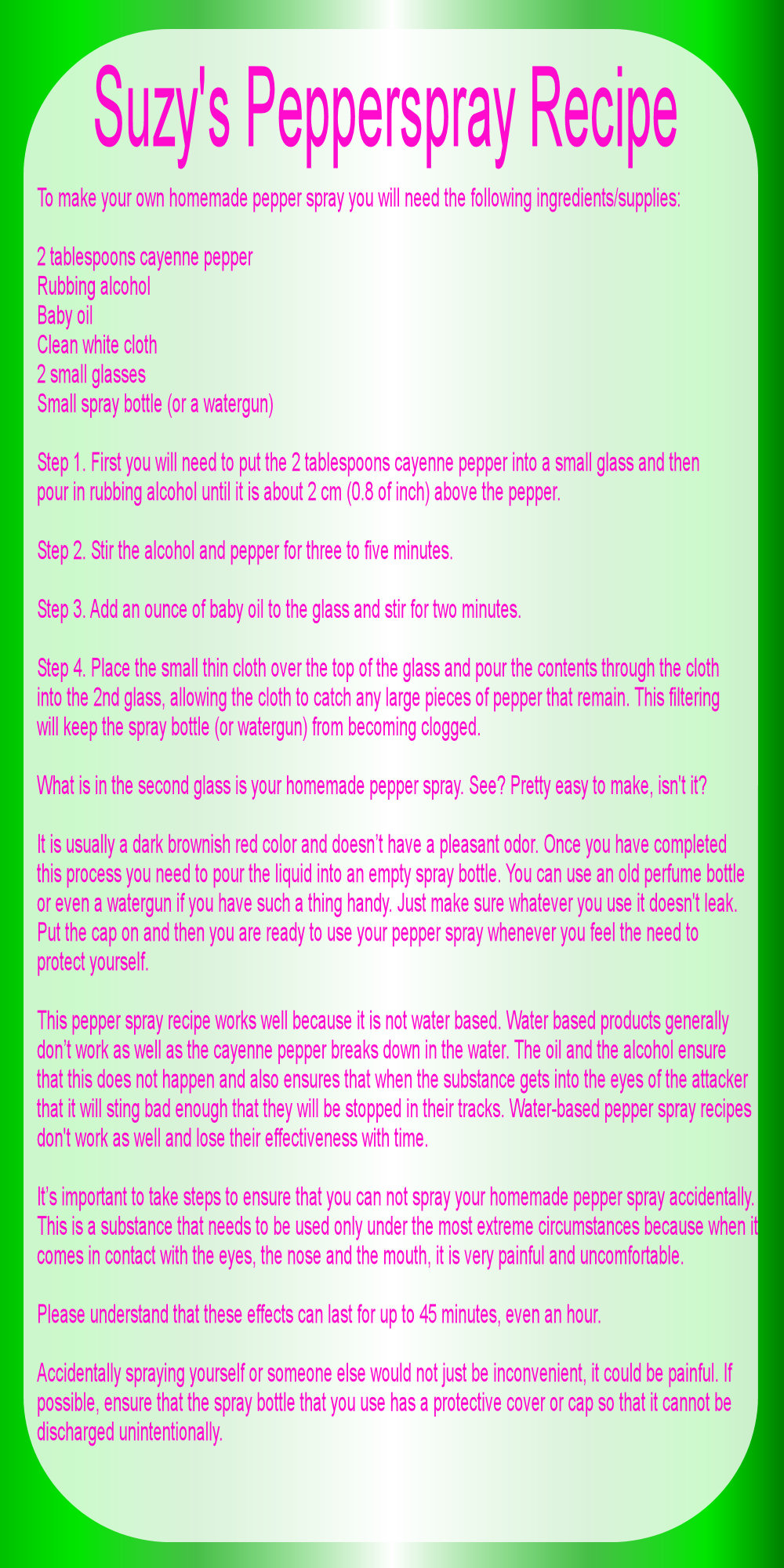 I have a hunch that between 1890 and 1910 the number of rapes dropped a bit in various Western countries due to women wearing hats that required hatpins. The reason? Because in a pinch the hatpin could be substituted as a self-defense weapon. See my blog post Hatpins as Self Defense Weapon for Women for more details.
Over a hundred years later, when such hats have gone out of fashion, we may have changed our fashion sense, but rape statistics continue every year. Usually its someone you know, someone you thought was a friend, a co-worker or even a relative with a sick obsession. But sometimes it can also be a stranger.
Either way, when people go outdoors to go to work, go shopping, run errands they typically carry their wallet and other things with them. I personally carry a Swiss Army Knife with me and am confident in its use.
But I also carry a small bottle of homemade pepperspray, using the recipe found on the right.
And I live in a big metropolitan city (London, UK) so the chances of muggings, rape, etc are slightly higher... but in reality I am none too afraid of rapists. I don't look scared and mousey enough for them to see me as a target. No, what I am really doing is waiting for my chance to be a superhero (aha, Radioactive Girl strikes again!) with nothing more than Pepperspray (and the Swiss Army Knife, of course, but that is more of all purpose tool - I usually use it for slicing oranges when I am out hiking).
Call it my own personal fantasy, but I really want to be a crimefighter who appears and saves the damsel in distress. If guys can do it, why can't I?
A friend of mine once speculated that if high schools taught a mandatory class in St John's Ambulance First Aid training that there would be a lot less people who die after an accident due to lack of medical attention, because the chances are more likely there would be someone nearby who remembers their training.
My concept of every woman in the world carrying pepperspray (and possibly another self defense item on their person, whether it be a taser, Swiss Army Knife, etc) would so discourage rapists that we could eradicate rape in a generation.
I also firmly believe that we could make a more foolproof lie detector test so that we can absolutely and truly determine who is lying and who is telling the truth. Combine that with higher prison times for rapists (or just sending them to a penal colony off the east coast of Greenland) we could eliminate rape.
And I think it is a realistic plan. Britain sent over 165,000 criminals to Australia during the 18th and 19th centuries. While it certainly speeded up the colonization of Australia, it rapidly decreased crime in an overpopulated and largely unemployed London. The plan worked. Crime dropped off dramatically because nobody wanted to be shipped off to Australia. Crimes of desperation still happened, but you get the idea.
Anyway until our governments get their act together and start finding ways to raise the conviction rate of known rapists, please share this Pepperspray Recipe with your friends.
Suzy's Pepperspray Recipe
2 tablespoons cayenne pepper
Rubbing alcohol
Baby oil
Clean white cloth
2 small glasses
Small spray bottle (or a watergun)
Step 1. First you will need to put the 2 tablespoons cayenne pepper into a small glass and then pour in rubbing alcohol until it is about 2 cm (0.8 of inch) above the pepper.
Step 2. Stir the alcohol and pepper for three to five minutes.
Step 3. Add an ounce of baby oil to the glass and stir for two minutes.
Step 4. Place the small thin cloth over the top of the glass and pour the contents through the cloth into the 2nd glass, allowing the cloth to catch any large pieces of pepper that remain. This filtering will keep the spray bottle (or watergun) from becoming clogged.
What is in the second glass is your homemade pepper spray. See? Pretty easy to make, isn't it?
It is usually a dark brownish red color and doesn't have a pleasant odor. Once you have completed this process you need to pour the liquid into an empty spray bottle. You can use an old perfume bottle or even a watergun if you have such a thing handy. Just make sure whatever you use it doesn't leak. Put the cap on and then you are ready to use your pepper spray whenever you feel the need to protect yourself.
This pepper spray recipe works well because it is not water based. Water based products generally don't work as well as the cayenne pepper breaks down in the water. The oil and the alcohol ensure that this does not happen and also ensures that when the substance gets into the eyes of the attacker that it will sting bad enough that they will be stopped in their tracks. Water-based pepper spray recipes don't work as well and lose their effectiveness with time.
It's important to take steps to ensure that you can not spray your homemade pepper spray accidentally. This is a substance that needs to be used only under the most extreme circumstances because when it comes in contact with the eyes, the nose and the mouth, it is very painful and uncomfortable.
Please understand that these effects can last for up to 45 minutes, even an hour.
Accidentally spraying yourself or someone else would not just be inconvenient, it could be painful. If possible, ensure that the spray bottle that you use has a protective cover or cap so that it cannot be discharged unintentionally.

Support the Feminist eZine: Advertise here for $30 / year. Banner ads only $50 / year.