Toronto Website Design &amp Toronto SEO
June Callwood
Activist Feminist June Callwood dies at age 82.
April 14th 2007.
During one of her last visits to Casey House, the AIDS hospice she helped found that is named after her late son, June Callwood noticed that the place felt tired and that there was a 60-watt bulb in the ceiling of the lounge. No one could sit there and read under that light, she fretted.
Friends rallied, the hospice's original interior designer was contacted, and before she died Callwood saw photos of a sparkling, repainted hospice, replete with the fresh flowers Callwood believes that facility must always have because it symbolizes caring.
When she first went into the palliative care unit she glimpsed a sign limiting visitors to 10 minutes. According to friend Marg McBurney, Callwood was outraged that the visiting time was so short when people had to pay "so much" for parking.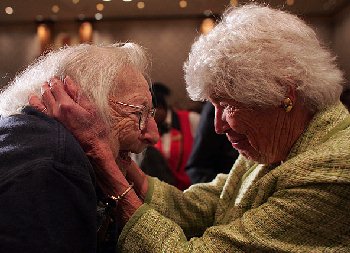 More than 2,500 men and women from Ontario and across Canada have received palliative and supportive care at the downtown hospice.
After announcing four years ago that she had terminal cancer, Callwood continued to write and lobby and win awards, the most recent earlier in March when she was given the Writer's Trust award for distinguished contribution. Last summer, a Toronto east end laneway was named after her.
"She's showing all of us how to die — with caring and humour and unfaltering caring of other people," McBurney said.
Callwood was involved in the founding of Digger House, a youth hostel, Nellie's hostel for women, PEN Canada, the Canadian Civil Liberties Foundation, and Feminists Against Censorship.
Callwood was born June 2, 1924, in Chatham, Ont., but was raised mainly in the village of Belle River. The elder of two daughters in a somewhat unstable family, she received such strong support and encouragement from her grandfather Callwood that it was a long time before she became aware of discrimination against women.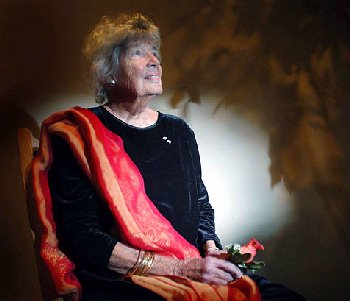 Following the release of a 2002 study that said more than a million Canadian children lived in poverty, Callwood said she always carried the scars of growing up poor during the Great Depression.
"What I found about the hurt was that I felt shut out," she said when she was 78. "That feeling has never left me. I have felt like an outsider all my life and still do."
A bright student who was editor of her school newspaper, the Brantford Collegiate Grumbler, Callwood picked up more journalistic skills at the Brantford Expositor. In 1942 she moved to Toronto to take a job with the Globe and Mail.
She married fellow journalist, sports writer Trent Frayne, in 1944 but kept her family name because the Globe didn't hire married women. The couple had four children, Jill, Barney, Benny and Casey.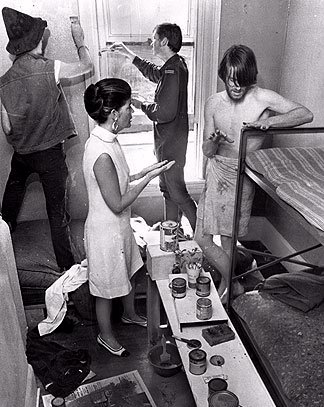 She got her pilot's licence in the late '40s when Jill was still a baby. And she embarked on a career as a newspaper and magazine writer, prolific author, TV personality, outspoken feminist and civil libertarian that lasted more than half a century.
Over almost five decades, she wrote for Maclean's and Chatelaine magazines, had a column in the Globe and Mail and began ghostwriting, first for Dr. Marian Hilliard, then Barbara Walters, Otto Preminger and Bob White.
Her own books include The Law is Not for Women (1976), Portrait of Canada (1981), Trial Without End (1995), the story of Charles Ssenyonga, who infected several women with AIDS, and The Man Who Lost Himself (2000).
From 1975 to '78 Callwood hosted CBC-TV's In Touch; more recently she interviewed people on VisionTV's National Treasures.
Over the years, Callwood picked up numerous honours, including more than 15 honorary doctorates, the Order of Canada, Officer (1985), the Order of Ontario (1988), the Canadian News Hall of Fame (1984) and the Toronto Arts Foundation Lifetime Achievement Award (1990).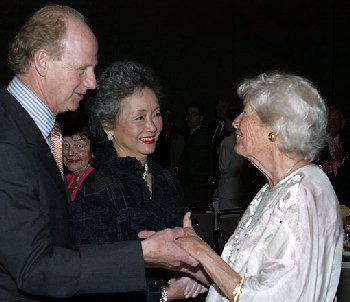 In what was billed as her last interview, on April 2 with the CBC's George Stromboulopoulos, Callwood talked about her life, her accomplishments, her love Trent Frayne, her husband of 63 years, and her illness.
"I'm a mess," she said during an interview for CBC's The Hour. "My cancer is all over the place. I'm blowing up like a Goodyear blimp, which I didn't think was supposed to happen. I thought you were supposed to get lean and beautiful."
Asked about what she may find in the hereafter, Callwood rejected the idea of heaven. "There's nothing next," she said. "That's alright. What you get is a life. A baby is a miracle. You open a baby's fist and they'll close their hand on your hand and hold on. What they've got is a life to live as best as they can. That's what you get. You don't need anything else if you've got that."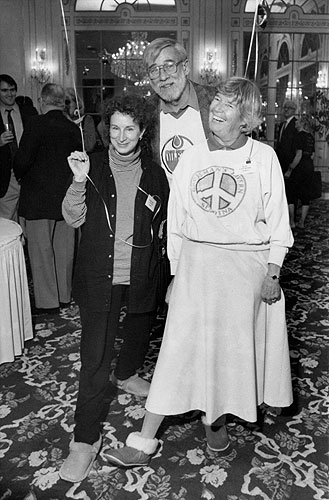 She also rejected the idea of God. "I believe in kindness. I believe it's very communicable just as meanness is. Strangers hold doors for one another. Sometimes they say thank you, sometimes they don't. Something in us says: `If I hold this door it helps this person, and that person is slightly changed. Great consideration for one another - that's what's going to save the world."
She spoke of a new kind of physical intimacy that develops between a husband and wife as one spouse suffers from a terminal illness. They have become even closer, she said.
"He's neat," she said, speaking of her husband. "I wanted to marry him from before I met him. We haven't had a fight since last night. I think we've had about seven marriages: the romantic marriage, the busy one with kids, career blossoming and now we're in this end of life stuff. It's very sweet. There's a lot of cuddling. He said to me the other day: `Don't die, you've got a great bum'. That's about as romantic as it gets now."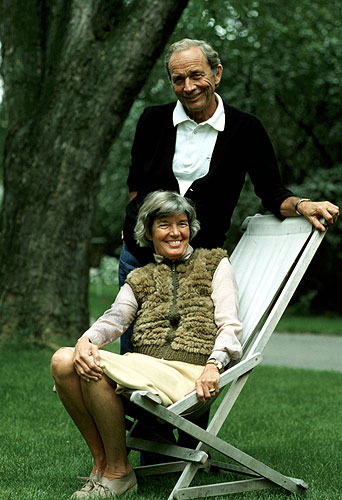 But she acknowledged she was worried about who would look after her husband after she died. "He's a lot of care," she said, adding she had always thought she would outlive him.
She said she has no regrets - except for not having more babies - and that her life has been full with many accomplishments. "I'm a licensed pilot - I've flown an airplane. I swim in the ocean. I married the man I loved, four wonderful kids - I never did anything that I'm deeply ashamed of. I'm embarrassed by a lot of things I've did."
And after joking with Stromboulopoulos that she had named a tumour after him, she admitted that she was ready to die. "I'm okay, I'm 82 years old for heaven's sake. Dust to dust is the way it ought to be. The death of the young is inexcusable."