Toronto Website Design &amp Toronto SEO
Abortion:
It's every Womans Right to Choose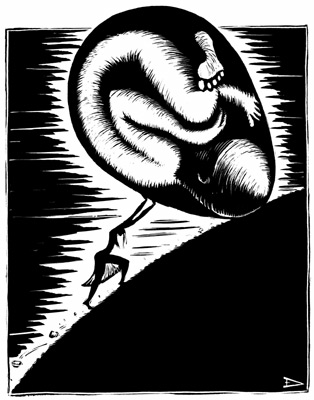 Abortion: It's every Womans Right to Choose
By Patricia McCarthy.
Anarchists believe that every woman has the right to choose an abortion when faced with a crisis pregnancy irrespective of the reasons for the abortion. At least 4,000 Irish women have abortions in England every year at present. Women worldwide have always sought to control their fertility through abortion no matter how difficult it is for them to get access to abortion and they probably always will. This is because it is essential for women to be able to control their own fertility and not to be reduced to the level of their biological function as child-bearers only if they are to achieve true equality and liberation.
At present the Irish Constitution with the the Eight Amendment reduces women to being equal only to a completely dependent foetus and it tries to condemn women to become unwilling incubators. To compare an adult woman or teenage girl with responsibilities, social relationships, personal plans, and so on to a completely dependent foetus is unacceptable. The foetus has no independent existence without the woman and the decision about an abortion or a continuation of the pregnancy must be the woman's decision and no one else's.
Women choose to have abortions for all kinds of reasons: poverty, bad health, too many other children, because of rape or incest or simply because they do not want to have a child at that point in their lives. We believe that all these reasons are valid. Women should not have to answer to anyone, not the church,not the state or even to doctors for their decision. This raises the question of abortion on demand. We oppose any kind of decision making process involving ethics committees or doctors or other variations on this. A woman must have the right to abortion on demand.
The question of free access is a very important one. At present only those women who can afford both the travel costs and the operation costs can get an abortion. Abortion facilities must be made available here in Ireland and they must be free as all medical services should be.
Censorship of information on abortion is a totally insulting attack on womens' most basic rights as thinking human beings to know what all the options are when they are faced with a crisis pregnancy. To deny women information, to take books out of libraries, censor magazines containing telephone numbers, all these actions treat women as irresponsible children whose moral decisions need to be policed by small groups of right wing bigots.
The hypocrisy of allowing women to go to England for abortions is no longer acceptable to many Irish people. Apart from all other considerations, having to raise the money for the travel and to go isolated and afraid to another country adds untold trauma to what should be a fairly simple medical procedure. Abortion facilities must be made available in Ireland free and without restricted access.
Anarchists believe that a woman's right to choose also means the right to choose to have a child and to have decent housing, child care and welfare facilities available in order to raise that child in a reasonable way and in order that her life is not totally given over to child care. At present with the current housing crisis the almost total lack of free child care and the lousy welfare payments this is not a real choice.
We are opposed to all forms of forced fertility control, whether it is the state imposing limits on the number of children a woman can have as in China or the denial of proper contraceptive and abortion facilities as in this country. The right to choose means the right to choose not to have a child or to have a child in circumstances where that means that neither mother nor child suffer materially or socially for that decision.
Anti-abortionists say that abortion is murder. We reject this argument. The foetus is a potential life only - it is not comparable to the life of a person of any age or ability who interacts socially and functions independently. We don't deny that abortion takes the life of a potential human being. The right to choose means that it is the woman's right to choose whether to bring that potential life to full term or not given the circumstances of her life. As anarchists we demand that right and we will be active in the campaign for abortion rights in this country over the coming months.
---
Abortion: the medical procedure that dare not speak its name
By Aileen O'Carroll.
OVER THE SUMMER there were developments in the long struggle over women's rights to control their own bodies. Most of them have not been good. In the North a group known as Precious Life succeeded, following a campaign of intimidation, in closing down the Ulster Pregnancy Advisory Association. The association had been in existence for 20 years. They took the decision to close their doors following picketing of the homes of their councillors, who were all volunteers. Their head office was broken into and a fire was started.
This means that women in places such as Coleraine and Derry will have to travel to Belfast if they want non-directive counselling and advice on abortion. As the Dublin Abortion Rights Group said "it is quite clear that this section of the anti-choice movement has adopted the tactics of US groups. In America the extremist groups have realised that they are not going re-ban abortion or win their case through lobbying politicians - so they have adopted a strategy of making abortion, and other women's health care services, unavailable through intimidation of staff and/or terrorism against service providers".
Meanwhile down South, the other end of the anti-choice movement is putting pressure on the independent TD's. First Mr Harry Blaney and Thomas Gildea demanded a 'pro-life' referendum. Then there was the news that they was going to be a meeting with other independents Jackie Healy Rae and Mildred Fox and with the FF Chief Whip. These announcements came as the rumour spread that the long awaited government Green Paper was due to be published. Obviously anti-choice campaigners were hoping that a bit of political pressure might cause some last minute rewrites in their favour, and maybe yet another referendum in the lifetime of the current government.
What ever happens, we are undoubtedly going to have a tough fight on our hands. It looks like we'll exit this millennium still struggling for women's rights. Get ready.
---
Abortion rights - It's up to you and me
By Deirdre Hogan & Aileen O'Carroll
In the debate thrown up by this year's abortion referendum media 'experts' and commentators have been saying that the progressive changes that occurred around contraception, divorce and equal age of consent for gays in Ireland in the early to mid-nineties were a natural result of modernisation of Irish society and occurred because liberal politicians decided to push for these changes. We are supposed to feel that only our rulers can change things, that the rest of us are pretty powerless. Well, it's not true.
Certain objective conditions, such as the greater urbanisation of Irish society, have had some effect on changing attitudes away from the conservative and ultra-Catholic views that dominated Irish society in the past. However no progressive reforms would ever have occurred were it not for people organising and fighting for these changes.
Prior to the X-case in 1992 abortion in Ireland was illegal in all circumstances. It was also illegal to give out any information about abortion facilities in other countries. Clinics were prohibited from giving non-directive counseling and the Censorship of Publications Act was used to ban health books and sections of British newspapers and magazines which contained information on where to get an abortion.
However, when the government then attempted to prevent the 14 year old suicidal Ms X from leaving the county to obtain an abortion abroad, there was a huge public outcry. Through mass mobilisations, school strikes and protests outside the Dáil people forced the government to back down.
A Supreme Court ruling then removed the ban on abortion in Ireland where there was a substantial risk to the life of the pregnant woman, with the threat of suicide included as such a risk. In the subsequent referendum people rejected the proposal to overturn the X-case judgement, they also voted to end the ban on information and voted for the right of women to travel abroad for an abortion. It is clear that these changes would never have taken place were it not for people engaging in the battle of ideas about abortion and ensuring that their voices were heard by taking part in marches and demonstrations.
The referendum on Divorce in 1995, which was only narrowly won by a mere 9,114 votes, shows how important it is that people get actively involved in the battle of ideas. Many people had just assumed that the referendum would be won and it was only as the referendum date drew near and polls indicated that it might possibly be lost that activists started to distribute leaflets and canvass door to door, making the argument for the divorce to be legalised in Ireland.
Since 1995 there have been no more major progressive reforms and the government has consistantly refused to make the legal changes that would implement the X-case ruling. Over this period the "pro-lifers" have been very active and, as well as lobbying politicians, have put huge resources into attempting to influence public opinion on the ground.
They have, for example, distributed glossy anti-choice leaflets to tens of thousands of households. The government has now called yet another anti-abortion referendum, which if passed will reverse the X-case ruling and increase to a maximum 12 years the jail sentence for desperate women who attempt to give themselves an abortion.
There is little popular support for this referendum. Recent opinion polls show that only 22% of the electorate favour a complete ban on abortion (1). Yet this does not mean that it will automatically be defeated.
If the divorce referendum showed anything, it showed that we cannot leave it up to media pundits to convince people that the government proposal is a backward step. As in the last abortion referendum, one of the problems we face is voter confusion over the implications of the vote. On the Irish Times webpage, for instance, both pro-choice and ant-abortion posters were calling for both a yes and a no vote.
Furthermore abortion is a taboo subject in Ireland. The emotional and personal nature of 'pro-life' attacks on those who disagree with them has meant that many people have taken the decision to avoid taking any position on abortion. It is one of the few areas of political life where people are not comfortable making known their opinions.
It is one of the few topics that is never talked about over a few pints in the pub. Many people won't vote in this referendum because they have been intimidated away from even thinking about this issue.
And yet it is important for us to win. And we can win. But it will mean going door to door with leaflets, giving out leaflets at bus and train queues, putting up posters, convincing our friends and family that their vote counts, that it is important that they take a stand. No change has ever been won without people like you and me spending time and effort trying to make it happen. Now is the time to give a hand.
The Alliance for a NO vote is the umbrella network for pro-choice organisations and individuals. Ask them to put you in touch with others in your area who are willing give out leaflets in the weeks before the referendum.