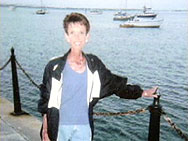 Adult Anorexia on the Rise
Florida Woman Drops to 58 Pounds After Turning 40
Associated Press - June 1st 2005.
Florida, United States of America: When Becky Marsella turned 40, she thought she would lose a little weight, exercise and get into shape. But what started as a simple diet soon became an obsession.
Marsella, a mother and wife from Florida, dropped to a perilous 58 pounds.
"I still visualize myself as I looked when I was 40 and not until I walk by a mirror and see my physical image do I realize how thin I am," she said.
Marsella is one of an increasing number of women suffering from adult anorexia. In the past, women over 40 made up less than 5 percent of patients seeking treatment for anorexia. Now experts believe more than 10 percent of anorexics are over 40, as women deal with images of film and television actresses who remain rail thin as they age.
"Anyone over 35 or 45 has to look young, has to look slender, has to be beautiful, has to have a wonderful appearance," said Dr. Susan Ice of the Renfrew Eating Disorders Clinic. "I think that's the given within which these women are operating."
More and more people are speaking out on adult anorexia. Most notably, Jane Fonda revealed she battled an eating disorder well into her 40s.
"My food addiction has represented a misguided search for perfection and nurture to fill the emptiness," Fonda said in a recent autobiography.
Ice said there are certain triggers that occur later in life. "Things like divorce, children leaving home, remarriage, career changes, aging parents, as well as physical changes that go on," she said.
For Marsella, who had always been a healthy weight for her 5-foot-5-inch frame, turning 40 triggered her eating problem. "I don't think it was one specific thing," Marsella said. "It was a combination of many things, the feeling of losing control in your life."
The obsession almost took her daughter down with her.
Rachel Marsella decided to join her mother's diet and exercise routine. She was 16 years old when she started going to the gym with her mother six to seven days a week, and the 5-foot-10-inch teenager dropped down to 100 pounds. "I was physically exhausted, I was starving, and I was so unhappy," Rachel, now 21, said.
Rachel's father, Rey, became alarmed as he saw his wife and daughter wasting away, and staged an intervention. Rachel ended her diet; Becky could not.
Becky Marsella dropped to 58 pounds, and was hospitalized. Three years after she started her diet, she is up to 69 pounds, and struggles to eat every day. "I still hope for recovery," Marsella said. "My family is my support and they're getting me where I need be."
---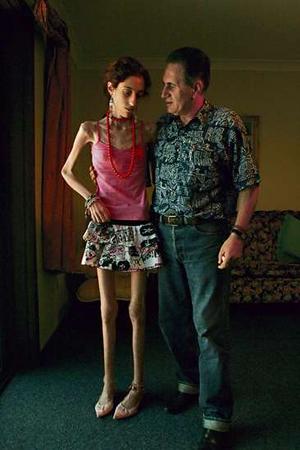 One father's battle to save his daughter from anorexia
By Caroline Marcus - January 14th 2007.
New South Wales, Australia: Frank Dimauro did not know if his only daughter would live to see her 18th birthday. [Photo on the Right: Catena Dimauro with her father Frank on her 18th birthday.]
Her body ravaged by anorexia and bulimia, Catena Dimauro weighed just 28 kilograms as the January 5 milestone approached.
Her six-year obsession with starving and purging herself had reduced her to a skeleton, and left her father exhausted from battling the public health system.
In a rare moment of hope, Mr Dimauro took Catena out of the psychiatric ward of Royal Prince Alfred Hospital and home to Lilyfield to mark her birthday. Days later she was rushed back to the cardiology ward, where she remained last night, dangerously ill, her weight having fallen to 26 kilograms, the equivalent of an average eight-year-old.
"She could have a heart attack at any time," Mr Dimauro said. "It is heartbreaking for me."
When Catena was 12, her mother's death from kidney failure triggered a terrible obsession in the previously happy girl, whose 63-kilogram body began to waste away.
Her father began finding food hidden in the house and garden. Catena began to exercise obsessively in her room and run up huge bills at the corner store, buying food to binge eat then vomit up. Despite Catena's rapid weight loss and disturbing habits, Mr Dimauro said doctors refused to hospitalise her, telling him she was "not sick enough".
At 14, she became sick enough. She was taken out of school and admitted to the Children's Hospital at Westmead. When she turned 15, her father said he was told she could no longer be treated in the children's unit and would have to be admitted to an adult psychiatric ward at RPA. The aim was for her to put on one to two kilograms. Instead, her weight plunged to 30 kilograms. The next year, her father says, a male patient attempted to rape her.
Despite occasional signs of improvement, her condition has always later deteriorated, culminating in a coma last year.
"It is nearly a year to the day that she was dying in John Hunter Hospital [in Newcastle] and here we are in the same scenario again," Mr Dimauro said. "She can't hang on much longer like that."
What distresses him most is that doctors refused to readmit Catena when she was an already alarming 36 kilograms in September; it was not until Boxing Day that staff decided she could be hospitalised.
"The system has failed, as far as my daughter is concerned," Mr Dimauro said. "Our children are just slowly dying away in the background and nobody knows about it.
"It's just amazing that a big state like New South Wales is the worst for anorexia. There is just nothing out there for these kids.
"I don't want to give up on Catena because I know she can be helped."
An invalid pensioner, Mr Dimauro said he asked NSW Health Minister John Hatzistergos to pay for his daughter to be treated at a private hospital. The minister had replied that the hospital in question did not have the resources his daughter required, he said.
Mr Hatzistergos wrote to Mr Dimauro last month to advise that Sydney South West Area Health Service would arrange an external review of his daughter's treatment plan, but Mr Dimauro said he had heard nothing since.
A worldwide charter for eating disorders is set to be launched here next month.
Jan Cullis, head of the Bronte Foundation, an eating disorders charity, said there was a lot of dissatisfaction about treatments in Australia.
Deadly disorder
About 560 new cases of anorexia are diagnosed each year in New South Wales (Australia).
There are about 4200 patients with the illness living in New South Wales at any one time.
The mortality rate from anorexia is 20 per cent.
---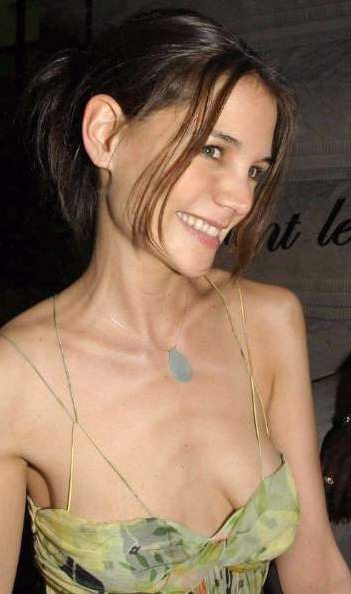 Anorexia nervosa may be partly genetic, research suggests.
Dutch researchers studied the DNA of 145 anorexia patients.
They found that 11% of the patients shared the same genetic mutation.
Proof that anorexia may be due to physical deficiencies opens a door for future treatment with medication
Dr Annemarie van Elburg - October 7th 2001.
The finding could pave the way for the development of drugs to treat the eating disorder. People with anorexia starve themselves because they believe that they are fat. In 20% of cases the condition is fatal. It is more common among girls, and usually develops during early adolescence. Many experts believe the condition is caused by social and psychological pressures on young girls to stay thin.
Only 30% of anorexia sufferers completely recover from the disease.
Rake-thin models
They blame images of rake-thin models and Hollywood actresses for presenting young people with impossible role models.
However, there is evidence to suggest that anorexia may have a genetic component. The changes of developing the condition are about one in 200.
However, if a family member has the disease, the chances of developing it rise to just one in 30. And twin studies have shown that when one of the twins suffers from anorexia, there is a 50% chance that the other will contract it as well.
American researchers have been conducting research on a mouse that seemed to have an eating disorder. The animal was not only obese, but also had a yellow colour.
In 1994 they finally pinpointed the crucial factor as a protein called Agouti. Agouti is found in the skin, where it is involved in the formation of pigment.
But a similar substance known as AgRP (Agouti Relted Protein) is also present in the brain and stimulates the desire to eat. Too much AgRP causes gluttony. The Dutch researchers, led by Dr Roger Adan, of the Rudolf Magnus Institute at the University of Utrecht, tested the theory that too little AgRP may be linked to anorexia. Blood samples taken from the 145 patients revealed that 16 were carrying a mutation of the gene that manufactures AgRP.
Dr Adan said: "With these results we didn't find a cause, but we find a very clear connection."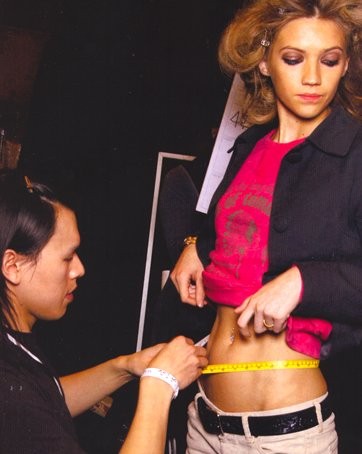 Psychiatrist
The researchers worked closely with Dr Annemarie van Elburg, a child psychatrist and head of the eating disorders programme at Utretcht Hospital. She said: "We think now that when someone with the mutated gene starts to lose weight, it will trigger the gene defect to be active. But this still has to be proven in further studies.
"The next step in the research will be to examine whether the parents of the anorexia patients with deficiency have the same gene mutations as their children."
Dr van Elburg stressed that there was currently no cure for anorexia.
She said: "Often the patients receive psychiatric treatment. And they are encouraged to gain weight in the hope that when the patients' body starts to change, their state of mind will be able to do the same.
"Proof that anorexia may not only be a psychological disease, but also due to physical deficiencies, opens a door for future treatment with medication." The Eating Disorders Association argues that anorexia, in common with other eating disorders, is a complex condition probably caused by a variety of factors.
The research is published in the journal Molecular Psychiatry.