Toronto Website Design &amp Toronto SEO
Grrl Power on the Web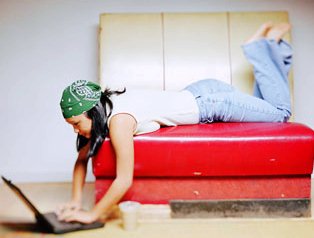 Grrl power sweeps the Web as women write for ezines
By Mary Gustafson - 2000.
DES MOINES, Iowa - Two years ago, Time Magazine declared Ally McBeal the death of feminism. Had Time searched the Internet for examples of modern feminism, it would have been overwhelmed by a new phenomenon occurring in cyber culture. Time would have found that the world of underground, alternative magazines has taken to the pocketbook friendly Internet, and that feminist and other communities for women have established a substantial presence in cyberspace--and discovered that feminism is certainly not dead.
The Internet is rapidly becoming a home for women searching for creative outlets and eager to express themselves and prove their technological prowess. While the early days of the Internet were dominated by men with sites written and created by and for men, new sites for women's issues and interests are springing up and becoming a dynamic source of information for women.
One of the most significant ways in which women are making more of a presence on the Internet is through their involvement in creating online magazines, showcasing alternative and underground cultures. Known widely as zines, these publications, prior to the advent of the Internet, were created in print form and targeted for young, specific audiences. Created mostly by teen-agers, they are aimed at those interested in music, punk culture, art, poetry, and literature. Homemade in appearance and and roughly designed, they are distributed mainly among groups of friends and those involved in underground music or politics. Because the costs of production prevent many would-be zine writers from printing their own works, many are moving to the Internet to produce them. Virtually unlimited Web space, and access to free servers such as Geocities, Angelfire and Gurlpages allow zine producers to create a product they couldn't have in print.
One group that has taken advantage of the Internet as a means of expression is that of teen-aged girls and women. Commonly known as grrrls, riot grrrls or gurls, the women behind "girl power" have swept the Internet. In her master's research paper "Girls Need Modems" published on the Web, Krista Scott of York University in Toronto, explains the advantages of self-publication on the Web. "The self-publication potential of the Net is one of the main reasons which creators cite as advantageous, since it allows for rhetoric and content which is unmediated by publishers, editors, or the like. Self-publication lends itself to a perception of immediacy, in that readers/users are more likely to feel that they can interact with ezine creators to those whose thoughts apparently are laid bare on the screen."
Drake University sociology assistant professor Janet Wirth-Cauchon, in an e-mail interview, explained the appeal of online zines to girls. "As far as girls turning to e-zines, the aspect that seems crucial for this is that (as with do-it-yourself paper zines) they are created by girls themselves and give them a space to voice their concerns, feelings, political viewpoints, opinions, in an unedited space that is free of the adult and/or other authoritative (or commercial) management or oversight that might filter out some of it. So its more raw, gutsy, in-your-face direct, -it's refreshing," Wirth-Cauchon said.
Girl zine creators have decided that it's about time for women to stake a claim to the Internet. In an e-mail interview, Maureen Bothe, community manager for the girl zine/community Razzberry, explains how. "Women's presence in cyberspace has grown by leaps and bounds. In the 'dark ages' of the Internet, it was mainly stereotypical male 'geeks' who stayed up all night programming and coding and being mysterious, as if no one could understand what it was all about. Women claimed their cyber 'space' and have been building empires ever since. The Internet is also a breakthrough for women who are intrigued by technology but felt it wasn't 'their place'."
More than just an outlet for expression and creativity, the Internet gives girls a place to become actively involved with social issues important to them. "The Internet has allowed women who would not normally speak up on touchy issues to really dig in and find out what they believe and what they want to fight for. It provides a forum for free thought, a place to meet like-minded people, get involved with activities and organizations, and write about how we feel as women in the world today,'" Bothe said.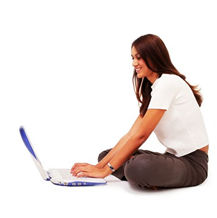 Girl zines come in many different packages. Some zines have their own domain names, a staff of writers and contributors and designers, with print magazine type layout and stories. These zines have writers who contribute from across the country, sponsor other zines, maintain discussion boards and chat groups and network with sister sites. Chickclick is one example of this type of zines. Chickclick is a huge site dedicated to women's issues, with a feminist bent. The site integrates articles and stories from its partner sites, sponsors concerts such as Lilith Fair and serves as a network for other zines of its genre.
Other zines, separate from networks like Chickclick, are more basic and are run primarily by one person. These zines are more specific with their content, centering around music, poetry or art. Girls utilize zines and Web pages like this as a place to publish their poetry and song lyrics, rant about issues that bother them, promote their favorite bands and celebrities, and generally create a forum to say whatever they want. These sites also tend to be a place where girls post an online diary. In this, they will describe their day and often reveal personal issues to anyone who wants to read about them.
Lindsay Vaughn is a high school senior and has her own website hosted by the service provider Gurlpages. Vaughn chose Gurlpages over Geocities and Angelfire because she found it a place that supported girls. "Many girls choose Gurlpages over Geocities and others because they're proud of being women. They know what they're capable of; they are intelligent, talented, creative, ambitious, and they don't want to be underestimated because they are girls," said Vaughn in an e-mail. On her own web page, Vaughn chooses to display some of her poetry and an online journal. "Websites are creative outlets. They provide a means to express one's self to the world. Posting journals online is like having your own personal newspaper or magazine column," Vaughn said.
Online female communities such as Gurl.com and Chickclick are also designed to empower girls and encourage them to start their own zines. Bothe said that Razzberry works this way, too. "Women and young girls should find an issue dear to them and write about it. Find free tutorials (that's how I learned) and study them. Make a site, talk to other women. As we say at Razzberry, 'You've got a voice. Use it.' Don't be intimidated by anything on the Net. Ask a lot of questions," Bothe said.
These types of zines also offer to girls more than what is stereotypically offered in print magazines. "Cyberspace is vast, and women aren't allowing publishers to pigeonhole them. They are going out and making sites devoted to health, politics, money, children's safety, spirituality, technology, mechanics, law. They are speaking frankly about issues print media are too scared to share, as if 'girls' don't --or can't--understand anything past makeup and boys," Bothe said.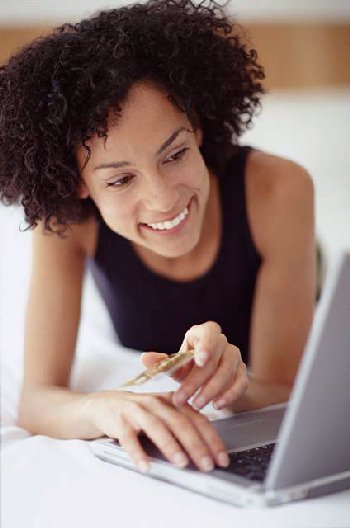 ---
Zines to Check Out
Chickclick- a virtual Web community for young women, and network for other zines. Host of chat rooms, discussion boards, and features articles and stories from other zines.
Marigoldzine- a girl zine run by and for young women, featuring a staff of writers, editors and contributors.
WiredWoman- a zine focusing on women and technology, as well as articles on other topics.
Razzberry- another web community and zine for girls, similar to Chickckick.
Gurl - another zine and web community aimed at younger, mainly high school aged girls. Home of the Web page provider Gurlpages
Disgruntledhousewife- a web zine targeted to women in their 20's and up. Irreverent and amusing, the author of this site has it out for men.
iVillage- an online community targeted more towards career and family women, as well as single and young women. iVillage markets itself as The Women's Network.