Toronto Website Design &amp Toronto SEO
Amelia Earhart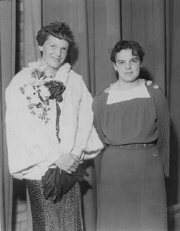 Biography by Suzanne MacNevin.
Amelia's Early Years
Amelia Earhart was born on July 24, 1898 in Atchison, Kansas. Her father was a lawyer and her mother the daughter of a wealthy judge. Her parent's difficult marriage had a profound effect on Amelia Earhart's philosophy of life. Her father, Edwin, was frustrated because he was never able to provide his wife with the kind of lifestyle she had become accustomed to growing up in the judge's house. He gave up his dreams and instead worked as an attorney for the railroad because the position paid the most. Even with this good salary, there were money pressures on Edwin and he began to drink. This lead to an alcohol addiction and the loss of his job.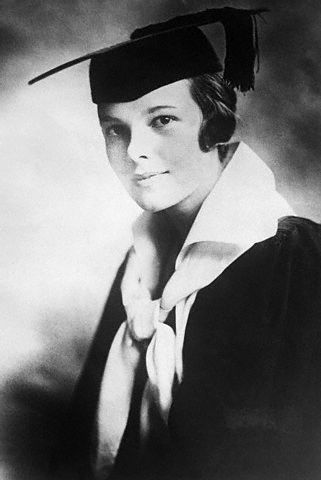 Edwin moved his family to Des Moines, Iowa, then to St. Paul, Minnesota. His alcoholism continued, though, and he found it difficult to find and keep a job. Finally his wife, Amy, took the children, Amelia and her younger sister, Muriel, to live with friends in Chicago while Edwin went to Kansas City to make a new start.
Amelia saw her father's frustration and unhappiness and determined that she would be an independent woman who could share responsibilities equally with a man and not be dependent on him. She graduated from Chicago's Hyde Park High School on time in 1916 despite the numerous different schools she'd been moved through. She assisted in a Toronto military hospital during World War I and afterward enrolled in the medical program at Columbia University in New York City in 1919. She did well there, getting A's in Zoology and French and B's in Chemistry and Psychology. One of her professors said, "She had a great curiosity and fine ability to synthesize...who knows what she would have discovered if she had chosen the research laboratory rather than aviation as a career?"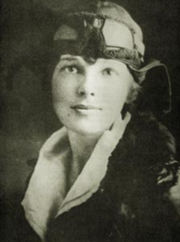 It was not to be, though. Her father was able to open a law office in California and Amelia and her mother moved back in with him. While there, Amelia attended an air show and her father arranged for her to take a trial flight. In the air, Amelia realized she'd found her calling.
Learning to Fly
She immediately arranged to take lessons on an installment plan from Neta Snook, the first woman graduate of the Curtiss School of Aviation. Later she took additional training from John Montijo, a former Army instructor. In June 1921 Amelia Earhart took her first solo flight.
Earhart soon became a fixture around the airfield in her leather flying jacket, khaki pants, boots and scarf. Her skill increased with her hours in the air and she won grudging respect among the male flyers.
In 1922, with the help of her father, she purchased a sport biplane built by William Kenner. That same year she used her plane to set her first aviation record which was the maximum-altitude-obtained-by-a-woman-pilot: 14,000 feet.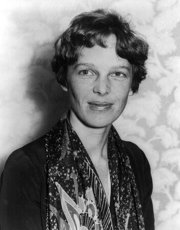 While things were going well for Earhart in the air, her family was having problems back on the ground. Her parents divorced in 1924. Amelia decided to put her aviation on hold, sold her plane and bought a car. She used the car to drive her mother across country to settle in Medfort, Massachusetts where Amelia's sister, Muriel lived. Amelia returned to her studies at Columbia University, but withdrew before the semester was over. Earhart later told friends, "That semester convinced me that I didn't have the qualities to be an M.D. For one, I lacked the patience. I wanted to be doing something, not preparing for it."
In 1926 she accepted a position as a social worker at a settlement house in Boston. She might have made a career in social work if it hadn't been for a phone call two years later from a man named George Palmer Putnam.
The Flight of the Friendship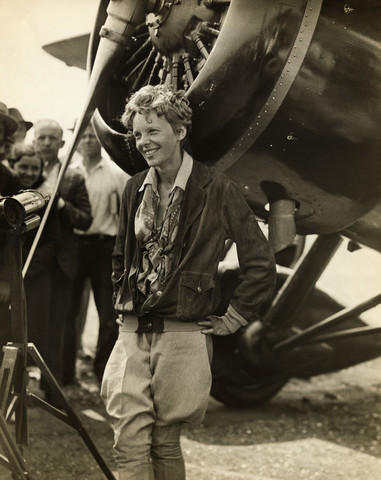 In 1919 a U.S. Naval flying boat had crossed the Atlantic to Portugal via the Azores Islands. In 1927 Colonel Charles A. Lindbergh made the first solo flight from New York to Paris. The world was going wild for aviation and Mrs. Frederick Guest of London decided that it was time for a woman to make the cross-Atlantic flight.
Mrs. Guest, who was wealthy, purchased a tri-motor Forkker aircraft and planned to hire a crew to take her on the flight. After reassessing the dangers involved, Mrs. Guest decided to back out and allow another girl "with the right image" to take her place. George Putnam, from the publishing company G.P. Putnam's Sons, who hoped to publish an account of the trip, started searching for a replacement. He hoped to find a girl with a flier's license and an extraordinary amount of courage. He found Amelia Earhart.
Putnam proposed the project to Earhart. She would have liked to have been more that just a passenger on the flight, but realized it would still be a great adventure. Wilmer L. Stultz was selected as the pilot. The Forkker was flown to Trepassey Bay, Newfoundland and there the crew of three waited for good weather. On June 17th, 1928 it cleared and the Forkker, which had been christened Friendship, took off. It landed in Burry Port, Wales with less than an hour of fuel still on board.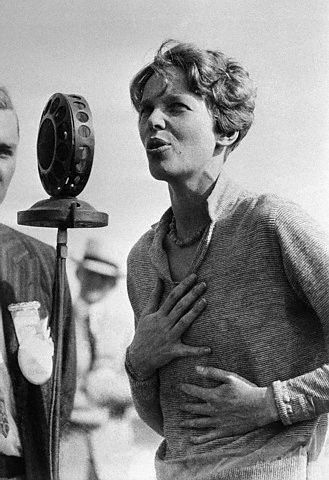 The flight brought instant fame to Earhart including a ticker-tape parade through New York City. George Putnam assisted Earhart with her account of the flight published as 20 Hrs., 40 Mins.. After the book was done, she set out on a lecture tour and later took a position as Aviation Editor on Cosmopolitan magazine.
After Putnam's divorce in 1930 he went on a campaign to win Earhart as his wife. He proposed several times before she finally accepted. They were married on February 7th, 1931. George probably wasn't the perfect mate for Earhart but he did provide her a business manager and media spokesman all rolled into one. Most importantly, from Earhart's point of view, Putnam never tried to curtail her freedom to fly.
George arranged for Earhart to promote everything from cigarettes (though she didn't smoke) to pajamas to luggage. She did put the brakes on some of Putnam's plans. When he wanted to sell a small ribbon meant for children and decorated with her signature Earhart told him, "Forget it, George. I won't be a part of cheating youngsters. Adults are supposed to know better, but not kids."
Breaking Records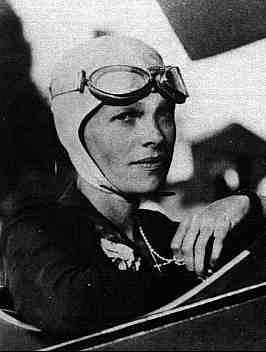 Earhart felt guilty about her fame because she'd only been a passenger on the transatlantic flight, not the pilot. To remedy this on May 20, 1932, exactly five years after Lindbergh, she soloed from Newfoundland to Ireland and became the first woman to fly the Atlantic alone. This earned her audiences with princes, kings and presidents. She became the first woman to be honored with the Distinguished Flying Cross. Three months later she broke the woman's non-stop transcontinental speed record by flying from Los Angeles, California to Newark, New Jersey, a distance of 2448 miles in 19 hours and five minutes. In 1933 she broke the record again by repeating the trip in 17 hours, 7 minutes and 30 seconds. In 1935 she became the first pilot, man or woman, to solo from Hawaii to California. Three months later she became the first to solo from Los Angeles to Mexico City. Then three weeks later she again soloed from Mexico City to Newark, New Jersey.
Earhart was invited to join Purdue University as a visiting counselor for women students. She loved her role there and the University decided to establish a special fund for aeronautical research. Fifty-thousand dollars was given to Earhart to outfit what she called her "Flying Laboratory": a Lockheed Electra twin-engined airliner. She had the seats removed and extra fuel tanks put in their place. With these changes the plane had a fuel capacity of 1204 gallons which gave it a range of 4,500 miles.