Toronto Website Design &amp Toronto SEO
HOCKEY MOM GOES TOPLESS!!!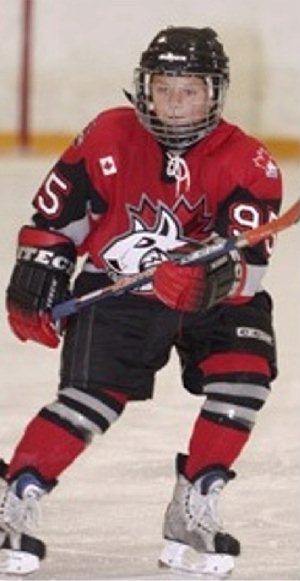 The president of the Greater Toronto Hockey League says he's "aghast" over an alleged incident at a hockey game in Mississauga where an irate mother of an 11-year-old minor hockey player apparently taunted parents and fans of opposing players by lifting her blouse, revealing her bra and shaking her breasts "from side to side."
The GTHL has invited the woman to a special committee meeting Wednesday where disciplinary steps, such as banning her from arenas, will be considered.
The alleged incident reportedly happened during a confrontation that erupted mostly between parents of players on two opposing minor pee-wee teams: the York Toros and Mississauga Terriers. The teams played Monday night in the Erin Mills Twin Arena.
In a letter to the GTHL, one parent who witnessed the alleged incident called it "unfortunate" and "disturbing" to witness.
"She lifted her top well above her breasts. (Wearing a bra) she shook (her breasts) side to side," the mother wrote. The mother, who has young boys, says she headed for the exits soon after with her sons but ran into her again. The woman claims the other woman said: "What the hell are you looking at? Have you never seen t--s?
"Yeah, he's probably seen them on the Internet," she reportedly said, according to the woman's letter.
Parents told the GTHL the alleged incident happened about three minutes before the end of the match. The woman has a son who plays for the Toros, which went on to win the game, 4-0.
When reached by the Star last night by phone, the woman said she didn't want to discuss the matter. "That's none of your business," she said.
"I have no comment, definitely not," she said, adding that the matter is being handled by the GTHL.
"Go ahead and write whatever you like."
GTHL head John Gardner says he's very troubled by the matter."What prompts people to do these types of things? I'm not a psychiatrist, I can't tell you," Gardner said yesterday. It's unclear exactly what preceded the alleged incident. He said the City of Mississauga has also been made aware of the situation.
"It's a little disturbing. We're talking 11-year-olds here," Gardner said, adding the GTHL received a number of complaints about the alleged incident from upset mothers.
"We haven't talked to the individual. Who's to say what caused her to create this form of disruption?
"I couldn't believe it when I received the first call Tuesday," he added.
According to Hockey Canada's code of conduct, any parent of a player whose conduct in an arena is legitimately deemed to be disruptive and not conducive to the well-being of the game may be banned from arenas as determined by the board or special committee for a specified period of time. The onus of enforcing the ban falls upon the club to which the spectator is related.
George Butler, president of the Toros, said he was aware of the situation but didn't have a comment because he's still getting information about the case.
"There are a lot of stories going around. Until I hear what comes out of the hearing I'm not going to comment," he said. Toros' GM Nancy Baldwin didn't return the Star's calls.
According to one adult who works closely with the Terriers team and was there at the time, the atmosphere in the stands was extremely rowdy, with some parents of players from both teams yelling and swearing at one another, leaving some young children in tears.
"Parents were behaving worse than the kids, but we're supposed to be the example," said the source, who asked not to be named.
"I feel sorry for (the woman's) son. Hopefully the GTHL can resolve this situation."
---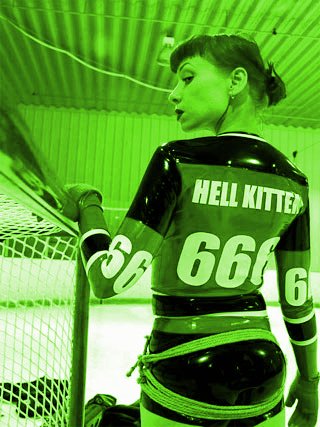 COMMENTARY:
SUZY MACNEVIN - Editor of the Lilith eZine
Well, its about time!
I mean this is Canada after all. Toplessness is legal here. If someone had lifted her blouse and waved her breasts around at a children's hockey game in the United States she likely would have been arrested for "indecent exposure". Women in the States can't even breastfeed in public.
And its going to stay that way as far as the Republican Party is concerned. Toplessness is "a bunch of feminist crap" according to Donald Rumsfeld. And as one of the brains behind the puppet president, its going to continue to "feminist crap".
Now admittedly some Canadians still get upset when a woman goes topless. Some Canadians DO NOT believe in women's rights. Although in this case, I think it was the taunting that really upset them.
So they filed complaints. Whoop dee do. There isn't much the GTHL can do about it. They could ban her from attending games, but it would never hold up in Canadian court if it became a legal issue. Canadian law says a woman has the right to go topless if she wants to. Canadian women fought hard to gain that right, and no hockey league is going to take it away.
Whether the hockey mom would actually take it to court is a whole other question, as she seems to be embarrassed over the whole ordeal...
But on the flip side, maybe other hockey mom's will follow suit! Maybe breast waving at hockey games will become popular!!!
Hey, I'd do it!
I'd do it at football, baseball and basketball games too!
But not everyone is as gutsy as me.
Or likes to make feminist statements.
You'll note that nobody complains when some big fat male takes off his shirt at a football game. Heck, he'll liked even have his chest painted in the team colours.
So obviously there is a double standard.
Maybe the next woman who does it should PAINT her breasts in the team colours ...
---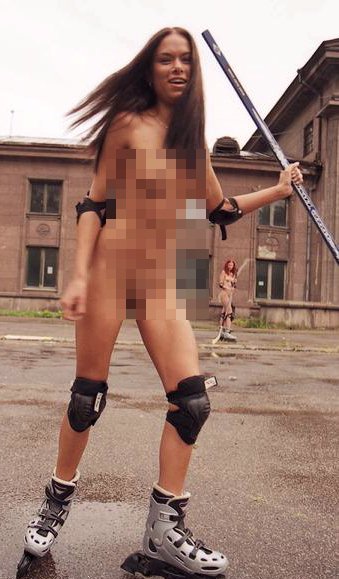 Nude Hockey takes to the Streets of Montreal!
Suzanne MacNevin - June 5th 2006.
Montreal, Canada has a new sport and its growing in popularity. Co-ed Nude Hockey.
Hockey is already Montreal's favourite sport, so I guess it was only a matter of time before the sport developed a nude version. The new sport was started when a group of college girls got together and decided to hold a fundraiser to raise money for breast cancer. They charged money for the audience to watch with the proceeds going towards a local breast cancer charity.
This, in my opinion, was just plain smart thinking.
Wearing nothing but shin pads and roller-blades the college girls played hard for several hours and drew a large crowd (mostly men of course).
Yvette Collins, spokeswoman for the group, says that they will continue playing in the future and hope to attract other women in other cities to join the cause and help raise funding for breast cancer charities.
My personal response? Awesome. Freaking awesome.
But I do advice that any women out there seeking to do the same thing first research their local state or provincial laws regarding public nudity. Its one thing to raise money for charity, but we have to be careful at the same time. If the law in your area is a bit blurry and currently in a state of appeal (or is just plain ignored) then I suggest "GO FOR IT!"