Toronto Website Design &amp Toronto SEO
Femicide in Guatemala & Canada
Definition: The term femicide or femicidio/feminicidios in Spanish is a term referring to the systematic killing of women because they are women. Femicide is seen as a gender crime. It is attested from the 1820s (2006 Random House Unabridged Dictionary).
There have been reports of femicide in Guatemala City, Guatemala and in Ciudad Juarez, Chihuahua, Mexico. The murders in Juarez and Guatemala were reportedly not investigated by the local authorities. Most of the women were raped before being murdered and some were mutilated, tortured and even dismembered. In Guatemala City about 20% of the over 500 women murdered in 2004 and 2005 were killed in pairs, due to an "intimate relationship" according to Claudia Acevedo of Lesbiradas.
There is also concern that femicide of Aboriginal women is taking place in Canada. Five hundred Aboriginal women have been reported missing or murdered since 1980, a disproportionate proportion compared to non-Aboriginal women. According to sociological studies these women are seen as easy targets because their race places them at the bottom of the social and economic hierarchy. Many of the missing women have been dismissed as prostitutes and their disappearances have gone uninvestigated. A major factor in bringing international attention to Canadian women was the murder of Helen Betty Osborne in 1971.
According to the Geneva Centre for the Democratic Control of the Armed Forces between 113 and 200 million women world wide are missing.
---
Helen Betty Osborne or Betty Osborne (1952 - November 13, 1971), was a Cree Aboriginal woman from Norway House reserve who was kidnapped and murdered while walking down Third Street in The Pas, Manitoba on the evening of November 13, 1971.
She was born in Norway House, Manitoba, the eldest of many children born to Joe and Justine (née McKay) Osborne. Her ambition was to go to college, and the only way to succeed in doing so would be to continue her education away from the reserve (as secondary education was not available) It was then that she was sent to live with a white family (in a government program where the families were reimbursed for hosting Native students) in The Pas, Manitoba, a culturally-mixed town of whites and Métis.
On the evening of her death, she was walking home when she was abducted, brutally beaten, raped and killed. Her unclothed body was found later by police.
Police at first suspected her boyfriend, Cornelius Bighetty, but his name was later cleared.
Four young local white men were eventually implicated in her death: Dwayne Archie Johnston, James Robert Paul Houghton, Lee Scott Colgan and Norman Bernard Manger. It was not until December 1987, sixteen years after her death, that any of them were convicted of the crime, and then only Johnston was convicted, as Houghton had been acquitted, Colgan had received immunity for testifying against Houghton and Johnston, and Manger had never been charged.
The Aboriginal Justice Implementation Commission conducted an investigation into concerns surrounding the length of time involved in resolving the case. The Commission concluded that the most significant factor prolonging the case was racism.
The RCMP officially closed the Osborne case on February 12, 1999.
A formal apology from the Manitoba government was issued by Gordon Mackintosh, Manitoba's Minister of Justice, on July 14, 2000. The apology addressed the failure of the province's justice system in Osborne's case. A scholarship was created in Osborne's name, by the province, for aboriginal women.
---
Rosa Valdez is an artist of Mexican heritage from the Bay Area who has strong connections to the Guatemalan community. She recently began working on an art project about "femicide" in Guatemala. The project is designed to create awareness of the crimes against women, to create solidarity among the families and friends of the victims, and above all -- to denounce the impunity that prevails in the country of Guatemala which has allowed proliferation of this type of violence.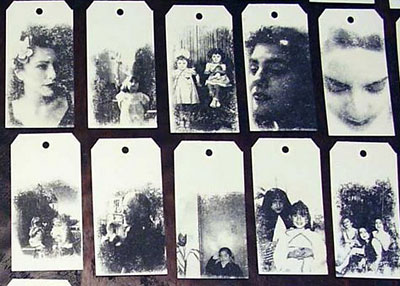 Femicidio: The phenomenon of the female homicides in Ciudad Juárez, called in Spanish the feminicidios ("femicides") or las muertas de Juárez ("The dead women of Juárez"), involves the violent death of hundreds of women in the northern Mexican city of Ciudad Juárez, Chihuahua, a border city across the Rio Grande from the US city of El Paso, Texas. Most of the cases remain unsolved.
According to the Organization of American States's Inter-American Commission on Human Rights:
The victims of these crimes have preponderantly been young women, between 17 and 22 years of age. Many were students, and most were maquiladora [workers in foreign owned factories]. A number were relative newcomers to Ciudad Juarez who had migrated from other areas of Mexico. The victims were generally reported missing by their families, with their bodies found days or months later abandoned in vacant lots or outlying areas. In most of these cases there were signs of sexual violence, abuse, torture or in some cases mutilation. Source
According to Amnesty International, as of February 2005 more than 370 bodies had been found, and over 400 women were still missing. In November 2005, BBC News reported Mexico's human rights ombudsman Jose Luis Soberanes as saying that 28 women had been murdered so far in 2005. Despite past and current unsolved murders, in August 2006 the Mexican federal government dropped its investigation.
Criticism of investigations
There has been growing dissatisfaction, both within Mexico as well as internationally, with the progress of the official investigations, even leading to charges of police complicity. Critics say investigations have ground to a halt because of corruption, incompetence and witness intimidation. They point out that when the U.S. Federal Bureau of Investigation (FBI) was brought in to help, Chihuahua state officials rejected its findings. The serial slayings have continued despite numerous arrests and claims that they have been solved.
The Inter-American Commission on Human Rights noted in its 2002 report on the Juárez case that "...the response of the authorities to these crimes has been markedly deficient... On the one hand, the vast majority of the killings remain in impunity; approximately 20% have been the subject of prosecution and conviction" and "an important segment of the killings in Ciudad Juárez took place at the hands of an intimate partner, but their significance has yet to be acknowledged by local officials."
Arrests:
Various individuals have been arrested in connection with the murders. However, the Mexican police have been criticized for making arrests with little or no evidence and failing to detain alleged perpetrators. Additionally, they have been accused of coercing people to confess to murders, destroying evidence, even kidnapping women.
Indeed, in 2003, Catalina Gonsalez Martinez's daughter Christina Escobar Gonsalez was murdered. The murderer was arrested, but claimed that he had killed her in self-defense. He was caught stuffing her badly beaten body into the trunk of his car, but sentenced to only three years in prison by a judge, a further sign of corruption in the judicial system.
One of the first arrests made was that of an Egyptian-born chemist, Abdul Latif Sharif (born in 1947), who was accused but never convicted of several rapes in the United States before moving to Ciudad Juarez in 1994 to escape a deportation hearing in Texas. Since his conviction and imprisonment for the murder of a young maquiladora worker in 1995, the police have arrested two groups of men whom they allege Sharif was paying "from behind bars" to rape and murder on his behalf in an attempt to establish his innocence of the crimes.
However, despite the arrests of Sharif and his alleged co-conspirators, the killings continued, leading the Mexican police and the public in general to consider many theories, among them that the real killer or killers are still on the loose or that the original killer or killers are in jail and copycats have moved to the area since. There are also accusations that there has been a conspiracy of silence and cover-up by Mexican politicians bribed by the killer or killers.
Many people have been surprised at how women could turn up dead while Sharif was in prison, but the police never failed to blame him for many of the murders.
Other suspects convicted in connection with the affair include Víctor García Uribe (El Cerillo), convicted in October 2004 for eight of the murders, and Gustavo González Meza (La Foca), who was arrested on suspicion in some of the killings but died in jail under suspicious circumstances on February 8, 2003. In January of 2006, their lawyer, Sergio Dante Almaraz, was murdered in Juarez. Some suspect he was ambushed by the same police officers who have killed before. source On January 7, 2005, four members of the "Los Toltecas" gang were convicted of six murders and six member of the "Los Rebeldes" gang were convicted of another six murders. Jesús Manuel Guardado and four other "Toltecas" had been arrested in 1999. One was found not guilty. Five of the twelve convicted so far have been bus drivers.
The latest arrest was made on August 15, 2006 by U.S. Marshals in Denver, Colorado. Edgar Alvarez Cruz is being charged with 14 of the murders. These are the cotton field murders and the Cristo Negro murders. Alejandro Delgado Valles alias El Calá,and Jos Francisco Granados have also been arrested in connection with these 14 murders. Two of the men are said to be drug addicts and the third a psychopath. Undoubtedly they are all poor. The daughter of Norma Andrade, founder of Nuestras Hijas de Regroso a Casa was among the cotton field victims.
Reactions:
On May 30, 2005, President Vicente Fox told reporters that the majority of the Juárez killings had been resolved and the perpetrators placed behind bars. He went on to criticize the media for "rehashing" the same 300 or 400 murders, and said matters needed to be seen in their "proper dimension". In response, the congressional special commission for the killings said that the president needed to be better informed about the situation.
A group of mothers, families, and friends of the victims, called Nuestras Hijas de Regreso a Casa A.C. ("Our daughters to come back home, civil association") was formed to raise awareness about the situation and put pressure on the Mexican government to pay attention to these cases, some of which have gone unsolved for 12 years. Members of the group, including co-founder Norma Andrade, demand that proper investigations be carried out.
To protest the lack of progress in the cases, a huge free concert was held by famous Latin artists such as Alejandro Sanz, Alex Ubago, Manu Chao, Lila Downs and others on September 18, 2005 in Mexico City's central Zócalo square.
El Paso post-hardcore band At The Drive-In released a music video for their song "Invalid Litter Dept." that details the deaths. The video features several photos of newspaper clippings and articles about the murders.
Singer Tori Amos's album To Venus And Back in part dealt with issues surrounding the deaths (along with other, unrelated themes), particularly in the song "Juarez".
In 2001, filmmaker Lourdes Portillo released one of the first documentaries dedicated to the victims of the murders, "Señorita Extraviada".
In 2004, Mexican norteño group Los Tigres del Norte released a song called "Las Mujeres de Juárez" (The Women of Juarez) on their Pacto de Sangre album. Juarez mayor Hector Murguia denounced the song, saying that it painted a false picture about the "real face of Juarez."
In 2006, filmmaker Zulma Aguiar released a documentary about the murders called Juarez Mothers Fight Femicide. She worked with Nuestras Hijas de Regreso a Casa A.C. and is giving all proceeds from the film to the group.
Footnotes:
Inter-American Commission on Human Rights, Situation of the Rights of Women in Ciudad Juárez (2002) — Report by OAS human rights agency.
BC News, No end to women murders in Mexico 23 November 2005.
"Nuestras Hijas de Regreso a Casa A.C." is a non-profit association of mothers by mothers in Ciudad Juárez who claim that their cases have gone unsolved for over 12 years, and wish to get the murderers of their daughters convicted.

References:
Antonio Mendoza, Killers on the Loose: Unsolved Cases of Serial Murder (Virgin Books 2002), ISBN 0753506815 — Study of unsolved serial killing around the world, including Ciudad Juárez.
Simon Whitechapel, Crossing to Kill: The True Story of the Serial-Killer Playground (Virgin Books 2002), ISBN 0753506866 — Updated edition of the first detailed study of the Juárez murders.
Charles Bowden, Juárez: The Laboratory of Our Future (Aperture New York 1998), ISBN 0893817767 — A very personal and detailed book with many pictures portraying the street-photographers of Juárez, that aim to improve the situation by documenting the daily crimes.
---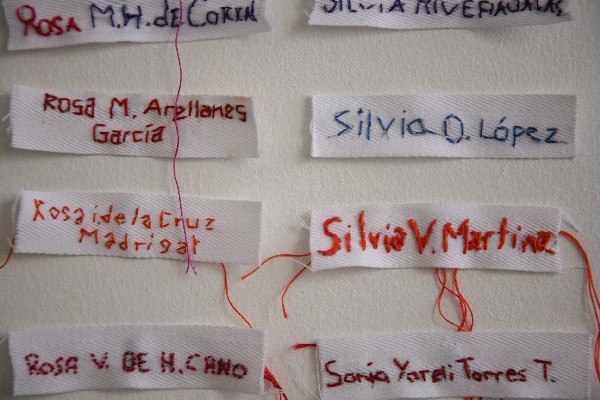 Lise Bjorne - "The Women of Juárez" - 2006.