Toronto Website Design &amp Toronto SEO
The Origins & Causes of Misogyny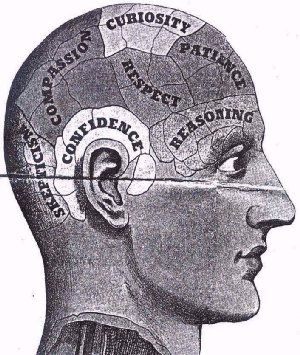 By Charles Moffat - March 2007.
Introduction:
Its important that a man write this because if a woman wrote it people (both men and women) would wonder if she is just making stuff up, is just spouting theories and does not even have a real clue of what goes on in the male psyche.
But as a man I can write this and with the full weight of authority too, because I have studied the mindset of men and understand many of the feelings that revolve around and directly cause misogyny.
Children are born without a sense of gender. Gender is taught at an early age and children quickly learn that boys and girls are expected to behave differently. A girl is expected to "sugar and spice and everything nice" while "boys will be boys" when it comes to getting into trouble its simply what is expected of them.
As boys become men however a metamorphosis takes place in the young man's psyche and much of it revolves around sexuality, insecurity and rejection.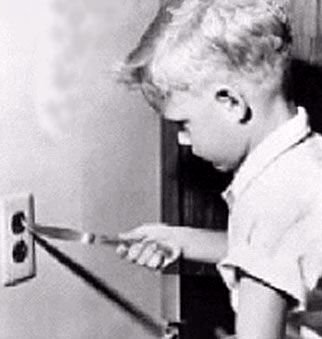 Men want Sex:
As boys grow older they quickly learn that seeing a naked woman can be an exciting experience (or outright dreadful depending on the circumstances). Sooner or later they catch a peak at some older boy's porn collection (or even the collection of a man's), or a peak of girls in the girl's gym locker room or some other commonplace event. Instinctively this is a flood of hormones in a young boy's body and hormones are intensely powerful drugs. Natural they may be, but hormonal shifts and social conditioning can dramatically change a boy's psyche (a bit like Pavlov's dog).
Lets say for example that a boy (we will call him William) at a young age sees a blonde buxomy woman on the front cover of a Playboy magazine in a pharmacy. William continues to see this and similar images on Flair, Cosmo, Penthouse, in advertisements, etc. As William grows older and quickly defines "blonde + big tits = beautiful". As that boy gets older William is immediately more attracted to blondes with large breasts.
Finding out about sex, either from word-of-mouth with other kids, or from family members who take the time to explain the "birds and the bees" or from sex education in school boys instinctively figure out that sex is fun, exciting and the thing adults do secretly.
The natural reaction is to be curious but at the same time insecure about asking such questions because there is so many confusing emotions involved and insecurity (see below).
At whatever age boys discover masturbation (and that you're not supposed to do it in public) this is quickly followed by the knowledge/curiousity about whether sex is better than masturbation. Because of the curiousity aspect its automatically considered better (and is, but thats a different matter).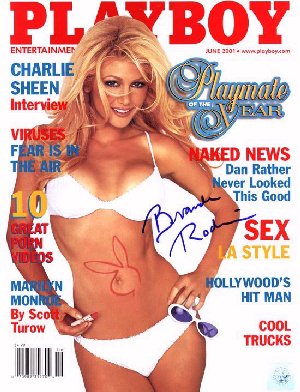 So the boys now know they want sex. How do they get sex? Women.
[Or from other men, but boys don't usually know this at such an early age. I didn't know what "gay" even meant until I was 11 and had it explained in sex education class.]
Men are Insecure:
But how do men get women to have sex with them? This is the problem for young boys who due to peer pressure for years lie about having lost their virginity when in reality they haven't even made it to "first base".
Getting a young girl to like you can be a daunting task. As girls are taught to behave differently and tend to like different things its difficult for young boys and girls to interact and find common topics they share. Generally speaking the stereotype is boys like sports, toy guns and violence and girls tend towards playing with dolls, having tea parties and baking cookies with mom (see "Monstrous Domesticity" by Faith Wilding).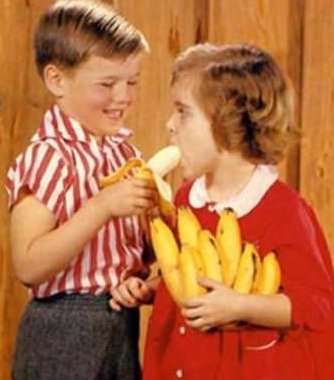 Even if young William does bake cookies with his mom he's not likely to share this information with any young girls he happens to know, and the fear of being called "gay" if he spoke aloud about playing with dolls (hence the term "action figures") or having tea parties with stuff animals.
Lets say however that William does finally meet a girl named Virginia (who is blonde and has the biggest breasts in his chemistry class), and they both like reading Harry Potter books, playing computer games and watching the Simpsons. Something in common at last, but this doesn't mean Virginia is going to give William his first kiss (or run around the bases for a home run).
[Note: Sports & War metaphors to explain sex is essentially a male tradition. Even the word "vagina" is derived from war, as it is the latin word for "sword sheath". The proper English word is 'cunt', but that word today has become quite offensive to many women.]
So Virginia and William talk about Harry Potter, computer games and the Simpsons together for 10 - 20 minutes during morning recess. Its a breakthrough for William who finally thinks he's found a girl who likes him. Virginia however may indeed be having similar feelings, or depending on how many boys she knows who like Harry Potter she might think nothing of this matter.
Later that day William sees Virginia after school with her friends and decides to wave at her. She doesn't wave back and appears not to care, but her friends giggle spontaneously.
William is immediately upset. He doesn't want to embarrass himself anymore, but he still wants to know why she didn't wave back. Does Virginia not like him? Is it because she was with friends? Thinking about this eventually makes William frustrated and angry.
Trying to patch things up William decides to try passing her a note. Because he doesn't want to embarrass himself he gets a neutral third party to deliver the note.
Virginia sends back the stereotypical reply: "Lets just be friends." She's not ready for a boyfriend, but thats not what William thinks is the real reason. He thinks Virginia simply hates him and has rejected him. He is embarrassed, humiliated and it makes him very insecure about even talking to girls for fear of rejection.
Virginia and William rarely speak afterwards. They are not friends at all.