Breast Cancer
Breast cancer is one of the most common forms of cancer in women. According to Health Canada , "the incidence of breast cancer has gone up steadily over the last decade. This may be due to women's increased use of mammogram services, changes in reproductive characteristics and/or environmental factors."
"Mortality rates through breast cancer have declined since 1985 and particularly since 1980. Several factors have contributed to this decline: earlier detection through screening, improved treatment and changes in risk or protective factors."
How ironic that increased incidence of breast cancer may be linked to the rising use of mammogram services and decline in the death rates is also linked with earlier detection through mammogram screening. This does not sound like progress to me. Perhaps, we are more accurately sitting between a rock and a hard place.
It is estimated that one in nine women will develop breast cancer in her lifetime; one in 25 women will die from this disease. I know nine women. Heck, I know twenty five.
The breast site is written with all women in mind.
In this section, we will draw attention to what is currently understood about the cause and prevention of breast cancer. We will also look at the identified risk factors, early detection methods and types of breast cancer treatment.
For the women and their families living with breast cancer we will provide support links along with survivor stories and resources. And we will identify some of the major fund raising initiatives and a selection of the foundations and charities that work to make breast cancer history.
Self-education and personal responsibility are key elements of your optimal health and disease management. When it comes to your health, ignorance is not bliss. And as my friend Adrienne says, "the only thing worse than finding a lump, is not finding a lump."
---
Breast Surgery
There are three types of breast surgery. All surgeries come with associated risks and should be considered very carefully before proceeding. Often the perceived benefits of cosmetic surgery do not outweigh the realities.
Breast reconstruction is exactly what the name implies. If you have lost a breast to breast cancer or some other form of disease or injury you may be a candidate for reconstruction surgery. This surgery is not foolproof. I know two women who have experienced failed attempts to have reconstruction done after a mastectomy and one woman who is content with her new set. Do check out our breast implants section as part of your research.
Breast reduction surgery involves the removal of your breast tissue with the end result being smaller breasts. Women who pursue reduction surgery are often trying to relieve a secondary health issue caused or exacerbated by the size of their breasts. Again, this surgery is not foolproof and should be carefully researched before going forward.
Breast augmentation or breast enhancement surgery involves increasing the size of your breasts by inserting implants. There is much controversy associated with this particular brand of surgery. Silicone implants used extensively in the 80's and 90's are no longer used, due to a variety of complications. Motivation for breast augmentation is rarely grounded in a healthy perspective of self and can often be associated with society's obsession with large breasts. And, as you will read under our breast implant section, horror stories abound.
Breast Reconstruction
Women who consider breast reconstruction surgery tend to be either breast cancer survivors who have had single or double mastectomies or women who have had their breast tissue removed as a way of reducing the risk of breast cancer due to a significant family history of the disease.
Women who have had lumpectomy procedures do not need reconstructive surgery.
Breast reconstruction is a surgical procedure, performed by a plastic surgeon that restores the appearance of a breast by rebuilding the breast contour. Women can also opt to reconstruct the nipple and darker area around the nipple called the aureole. Reconstruction will not restore the normal feel and sensation of your breast.
Breast reconstruction can be done at the same time as your mastectomy. The main benefit of immediate reconstruction is one less surgical procedure to endure. Delayed reconstruction may be appropriate if radiation is prescribed following the mastectomy. Radiation can increase complications after surgery.
Deciding to have breast reconstruction is a matter of individual choice and should be thoroughly researched and discussed with your doctor, plastic surgeon, support group, family and those you trust. Try not to rush your decision making process. It is important for you to make a decision that you are comfortable with based on thoroughly researched and understood information.
Breast Reduction
Breast reduction is a surgical procedure undertaken to make the breasts smaller. Most women's key objective for undergoing breast reduction is to seek relief from the physical symptoms caused by excessively heavy breasts. A reduction in the weight of the breast is achieved by surgically reducing (removing) breast tissue. The procedure removes fat, glandular tissue, and skin from the breasts, making them smaller and lighter. It can also reduce the size of the aureole; the darker skin surrounding the nipple.
We do not recommend breast reduction unless doing so will clearly improve a health issue. Making a decision to permanently change the shape and size of your breasts should be done after much thought and with a clear understanding of what is motivating you. North American culture has a very narrow and restrictive view of what breast size and shape is deemed attractive. Ideally, by questioning our own ideas of breast beauty we can help to expand the societal perspective of what is normal. Your own breasts are likely the best. See if you can love what you already have.
Breast Augmentation
Breast augmentation is a surgical procedure designed to increase the size and/or alter the shape of a woman's breasts through the use of an artificial breast implant. Women may choose to have this operation either as a reconstructive technique following breast cancer surgery, to balance asymmetrical breasts or to change the proportions and line of the body.
Augmentation surgery is an outpatient procedure that is performed under a general anesthesia. The placement of the incision will vary according to body type and the specifics of each procedure. The surgeon enters through the incision and creates a pocket, either on top of the pectoral muscle or beneath them, and inserts the implant.
We do not recommend that you undergo breast augmentation. Taking the time to form a clear understanding of what is motivating you will likely yield an interesting answer. North American culture has a very narrow and restrictive view of what breast size and shape is deemed attractive. Ideally, by questioning our own ideas of breast beauty we can help to expand the societal perspective of what is normal. Your own breasts are likely the best. See if you can love what you already have.
Sports Bras
Sports bras provide support, motion control and a snug fit during workouts. If you decide that you prefer to wear a bra, choosing a sports bra that fits you well, matches your activity level and offers you a soft feel with moisture-wicking performance is your goal.
Don't be afraid to allow your breasts to be bra-free during your preferred activity. This allows your breasts to experience their natural range of motion and allows for unrestricted lymphatic flow. And, as an added benefit, increased fitness and activity will reduce your risk of breast cancer.
If you decide to be a sports bra wearer, the first step is to determine your bra size. More than 68% of women do not know their proper bra size.
Second, determine your physical activity level. Generally there are three defined impacts of activity; low impact (yoga), medium impact (tennis), high impact (running). Most sports bra makers will indicate the activity level that their bras are best suited for.
Third, choose sports bra style that suits your body type. The compressed style works by strapping the breast close to the body. This style is ideal for the A and B cup woman. The natural shape style is more comfortable for a larger breasted woman.
Fabric is important to consider when buying a sports bra. Chose of fabric will depend on your physical activity level and how sensitive your breast skin is. Different fabrics provide different levels of softness, moisture management and fit. Read the label and ask your retail assistant for help in deciding.
And finally, there are an increasing number of styles to choose from in sports bras. Differences include different back styles, a range of closures, pullovers, and styles that can be worn as outerwear.
Sports bras that are used 3-4 times a week tend to wear out within 6 to 12 months. Hand-washing will help extend the life of your bra. When your sport bra starts to lose its fit, throw it out.
---
Nursing Bras
The best time to buy a nursing bra is during mid- to late pregnancy, or when your pregnancy bras are no longer comfortable. Always buy a nursing bra that gives you good support but also allows for some extra room for nursing pads. And be sure to buy more than one nursing bra. Nursing mothers have a tendency to leak breast milk, so it's good to have a spare.
When considering a flap-nursing bra, be sure that you can easily unhook and re-hook the flaps, or effortlessly pull the bra aside with one hand. Typically, the plastic clip version is simple to operate with one hand. If you plan on using a breast pump, you may want to consider a nursing bra that will work well with a hands-free pumping system. A stretchy nursing bra also has its advantages.
And finally, there are many beautiful nursing bras available on the market. Hip mamas have long abandoned the perfunctory, bland bra for everything from animal prints to vibrant colors.
---
Maternity Bras
Selecting a maternity bra is slightly different from your regular bra-purchasing routine because your breasts are changing daily. You will find that your breasts become increasingly heavy, more sensitive and considerably larger as your pregnancy advances. Different stages of your pregnancy will require a larger bra.
Purchase a bra that fits you as you are right now. Avoid the trap of purchasing a larger sized bra that leaves room for future growth. This works with children's clothes. It does not work with maternity bras. Your breasts need proper support now and a good fitting bra will contribute to your sense of well being as your body goes through the many changes associated with pregnancy.
You can get some flexibility in your bra fit by purchasing a four-station back closure. And we suggest that you chose a style with wide, cushioned, non-stretch shoulder straps. This bra feature will provide the best support without digging ruts into your shoulders.
And finally, as your pregnancy advances, it is wise to move from a straight maternity bra to a nursing bra. If you are still considering whether to breastfeed, we invite you to check out the resources under our breastfeeding section.
---
Teen Bras
The teenage years are an exciting time of development for young women. And purchasing your first bra is an experience that you will long remember. Ideally, you will want this memory to be pleasant. With a little foresight and thought, this should be easy to achieve.
Teen bras are available in a variety of sizes and types and are designed to fit the smallest of physical frame to the well-endowed teen. First and foremost, it is important to take accurate measurements for correct fit. And, be sure to let your teen know that not wearing a bra is an option for them as well.
When you're a teenager, bras can be a fashion statement. With little tops in style, you'll want bras that have fun and flexible prints, to go with any outfit.
You will want to find teen bras that offer teens the chance for youthfulness and movement, without compromising support. Teen bras are made with the colors, styles and patterns of youth in mind.
---
Mastectomy Bras
Mastectomy bras are designed with pockets in the cup area to hold a breast prosthesis. There is a wide range of styles and colors of mastectomy bras and more and more are being added to the market all the time. Design and fit improvements are constantly advancing too. If you are not satisfied with the comfort and fit of your current mastectomy bra, we recommend that you continue your search.
The silicone breast prosthesis simulates the natural breast in its shape and weight. The main advantage of prosthesis is to provide symmetry and balance to a breast cancer survivor's body. Getting the right prosthesis is fundamentally important to your eventual comfort level.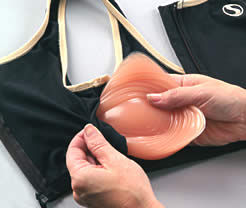 With a good fitting prosthesis, and a well-designed and fitted mastectomy bra, you will be helping to balance your posture and provide protection for your chest and breast cancer scars. As well, you will reduce your chances of back problems and shoulder and neck pain. And, your pre-surgery clothes will continue to fit you well.
Consult with your doctor about the timing for your breast prosthesis and mastectomy bra. Healing varies with each woman depending on the surgery. After Mastectomy: Healing Physically and Emotionally, written by Rosalind Benedet, N.P., and a clinical nurse specialist at the Breast Health Center of California Pacific Medical Center, is a wonderful book that we recommend. For additional breast cancer survivor support information, please visit our breast cancer section.
---
Post-Surgery Bras
For women who have had any type of breast surgery, one common but preventable problem is finding the right type of bra to wear after surgery. Many women don't think about this issue, or their doctor does not advise them about choosing a post-surgical bra. The result? Desperate bra shopping at the start of recovery, a time when you are least likely to want to shop for a bra. So, what type of bra should you look for?
For patients with breast surgeries, almost all doctors recommend a sports bra. A compression garment like a sports bra will help reduce swelling and speed recovery. Rebecca Fuller, author of implantforum.com, advises women to "wear a sports bra with a zipper in front because it is difficult to move your arms after surgery. A sports bra that is easy to get on and off is a must."
Dr. Robert Frank of www.weinbergfrank.com specifically recommends the Champion Sportshape sports bra. "The Sportshape gives excellent compression and support. It's the best for all of our patients with its large range of size offerings," states Dr. Frank.
If your doctor does not provide this type of service, it is important to shop at a source that offers a wide range of sizes Most likely, your size will change during recovery and may be hard to predict just after the procedure. So, you may need two sizes on hand.
"It may be tough to know what size you'll need after surgery and every sports bra style is sized differently, so you might want to get a couple of different sizes. Shop at a source that accepts returns," advises Dyna DuMore, fit expert at bra shop X-chrom.com. X-chrom.com boasts an interactive online fitting experience, complete with choices based on factors such as vertical bounce, fabric texture, etc.
Prepare to make your surgical experience as painless as possible. Before surgery, choose the right type of sports bra for you. And unless your doctor stocks them, buy at least one sports bra before surgery.
---
Bridal Bras
Today's wedding dresses come in such a wide range of styles and designs it is no wonder that a line of bridal bras have been created as the undergarment compliment. Wedding mania promotes mass consumerism. Or perhaps it's the other way around.
The wedding day seems to be a tense time for brides. Having your bra spring a strap will not add to your pleasure. Best to have a bra that requires no thought or attention on your part.
The best way to achieve this goal is to accurately take your measurements and a buy a bra that fits you, not just your dress. Only your bra's style should be dictated by your dress choice. Check out our fitting a bra link for a guide to proper measuring.
Your bridal bra style will depend on the neck, back and shoulder line of your wedding dress. Try to avoid needing safety pins and other last minute changes by trying the bra and dress on together in advance. To do this, bring your bra to your final wedding dress fitting. Be sure to check with the return policy of the bra retailer first to be sure that you can make a return should you need to.
And, unlike your wedding dress, you will want to wear your bridal bra again and again to get your money's worth.
---
Underwire Bras
I'll be honest. I hate underwire bras and I do not believe they are good for your breast health. And if this isn't too much of a contradiction, I own a couple that I occasionally wear with certain outfits. Go figure.
The underwire bra is designed to provide additional lift. Underwire can be found in many different styles of bras. Some women swear by their underwires and others find them very uncomfortable. One way to determine if this is a style of bra that will work for you is to give it a try.
Be sure to check your size first as over 68% of women wear the wrong size of bra. You can figure out your bra size by clicking to our bra fitting page.
Most bras, including underwire, come in a wide range of colors. The most important factor in choosing a color is personal taste. If you go nuts over red then it's the color red that you want! If you think the best color is black, go and get it! Have fun and be brave with your bra color choice. A bright yellow lacy bra can be fun to wear.
---
Vintage Bras
Thanks to the World Wide Web, you can find both original vintage bras as well as excellent reproductions of some of the pasts most extraordinary bra styles. Check out the book Virtual Vintage: The Insider's Guide to Buying and Selling Fashion Online for ideas and sources.
With original vintage, a reputable dealer will mention slight imperfections in the descriptions, however, it is possible for vintage lingerie to have the occasional snag, storage soil or age freckles. Often, original vintage bras are new, have never been worn and in excellent condition.
Wearing vintage is a wonderful and fun way of connecting with our past. Whether original or a reproduction, slipping into a 1940s Bullet Bra will give you the famous Sweater Girl look of the Hollywood stars.
Or, perhaps you prefer to slip farther back in time and try out a corset. Today's styles of yesterday's underwear include back-lacing, boned corsets with a Victoria feel and waist-cinching look. So if Moulin Rouge is more your style, a corset may be the perfect fashion accessory for you.
No matter what you choose, buy a vintage bra size and bra style that fits your body and body type. Vintage bras are the perfect every day costume. Go for it.
---
Leather Bras
Leather is one of the most sensual fabrics you can wear. Because of this, there is a wide selection of leather bras available on the market. Plain, studded or adorn with chains, a leather bra can be extremely comfortable, exciting to wear and last a lifetime with proper care.
Never store your leather bra in a non-breathable cover. This will cause the leather to dry out. If your bra becomes damp or wet, dry the leather out naturally and away from a direct heat source. If your bra seems dry or stiff, treat it with a leather conditioner to restore flexibility.
Professional leather cleaning is recommended for all leathers. Ask your dry cleaner whom they recommend. If you have a leather bra set, clean all parts at the same time, since a slight variation is color or texture may occur as a natural result of the cleaning process. Your leather bra may shrink slightly, but it will stretch again with wear. Home care products are also available if you choose to clean your leather bras yourself.
---
Belly Dance Bras
Belly dancing is sweeping the nation and you can join in the fun and splendor of it all.
Start by signing up for a class. And you will definitely want to invest in a spectacular costume.
The belly dance costume bra is one of the main features of any belly dance costume. Beaded, fringed and dangling with coins, the belly dance bra is designed to highlight your bust line in the most glamorous way.
There are several key elements to look for when purchasing a belly dance bra. First and foremost, you will want the closure to be solid and reliable. Having a second closure is a good backup. There is much breast shaking, shimmying and rolling in most belly dance routines. You don't want to be worrying about your bra flying off during an undulation.
Second, you will want strong and secure shoulder straps. Tee straps are good. Criss-crossing your straps will also reduce the chances of them slipping off your shoulders during a shoulder roll.
Be sure to check that the breast cups are hard-shelled. Beads, coins and fringe are heavy and need to be firmly secured to a base that will not tear from a lazy camel move.
Fabric choices range from luxurious velvet to shimmering lamé, rich brocade, or ooh-la-la sequins. It will be hard to decide. And you likely can't go wrong.
Also worth noting is that increased exercise is one way of reducing your chances of breast cancer. There is nothing to say that exercise can't be fun and sensual. And, belly dance is an amazing physical workout.
---
Sexy Bras
Some people would say that simply being confident with your body is the sexiest thing a woman can pursue. Wearing a bra is secondary at best.
Certainly there are as many styles of sexy bras as there are women. Often, the purchaser of a sexy bra is a woman's lover. This can sometimes prove challenging as a lover may have very different hopes and expectations for the outcome of the purchase than the woman who will eventually wear the bra. Here are a few tips for you to take into consideration when purchasing a bra for someone else.
First know the type of woman that you are buying for. This includes knowing her bra size and perhaps her favorite color.
A sexy bra is a gift for both of you, not just you. Its purpose isn't just for sex. There is little sense making a purchase that will never be worn because the style is outside of her comfort zone. Consider her preferences, body shape and personality.
If this isn't obvious to you, a great place to get clues is in her bedroom. Is the room seductive or romantic? Perhaps she is into a retro look or vintage decor; maybe a vintage bra? As a person, does she like to try new things? Does she have an active imagination?
By asking these questions and doing some thinking in advance you stand a greater chance of buying the perfect sexy bra for your lover.
---