Toronto Website Design &amp Toronto SEO
Modern Women's Magazines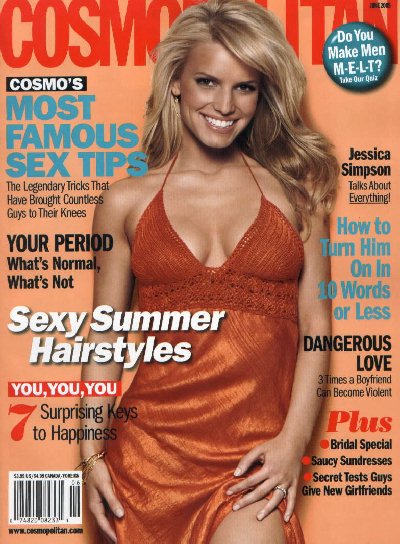 Bella - August 23, 2007
As far back as I can remember, I've been obsessed with women's magazines. In my memory, they're forever intertwined with trips to the hairdresser, where I'd inevitably wind up parked under a dryer. Needless to say, I started reading Cosmopolitan, Vogue, and Elle at a pretty young age. Before age ten I wanted to be a "Cosmo Girl," the kind of fun, fearless, and flirty gal that Helen Gurley Brown encouraged us all to be.
But by my teenage years, I wasn't feeling Cosmo's endless exhortations on how to please a man (there are just so many numbered lists and Bedside Astrology guides one can take!). My godmother read Essence, but it seemed boring to me then, with too many articles about finances and not enough fashion spreads and celebrity interviews for my then-immature taste. My sister was a regular reader of both Glamour and Mademoiselle, so I absorbed those. But my school friend Aisha's cousin lived "in foreign" and she would send her the coolest mixtapes and magazines. It was through this cousin-of-a-school-friend that I discovered Bjork (that first mixtape had Human Behavior and Venus as a Boy on it — oh, and a little song called Creep by a then-unknown British band). This cousin also sent down used copies of Sassy, the magazine that revolutionized my goals in life. And oh. My. God, I loved Sassy.
That magazine opened up a whole new world to this island girl, it made me dream of starting a zine, moving to New York City, piercing my nose, and streaking my hair blue (I actually did those last two things, both of which turned out to be bad ideas for me). That magazine made me realize that I wasn't as alone as I felt, there really were lots of girls who didn't want to dress or think or behave like the Cosmo Girls did. For once there was a magazine that gave me mental stimulation, wrote informative articles on a variety of topics, and didn't make me feel sad that I couldn't buy all of the expensive things they were lovingly showcasing. It was a fun, engaging read and I looked forward to every tattered copy that came from abroad.
But Sassy wasn't meant for me, really. It spoke to the young and hip, but the magazine was always targeted primarily at — as like, 97% of magazines are — at a white audience. This is never overtly stated. It's simply understood, by the lack of ethnic women on the covers, in the ads, and in the fashion spreads. I always hungered for a magazine for my demographic — a black Sassy, if you will.
By the time I heard of Suede, it was "on hiatus." I also missed the boat on Honey Magazine — and I've heard so many amazing things about that publication (I'd love to get my hands on some vintage copies, if anyone knows where I can get 'em). Brown Sista remembers it fondly, but blames the demise of the publication on "multiculturalism." In her opinion, that's been a common theme in the demise of the three biggest magazines targeted at women of color. In her recent blog post, What Black Women Want, she explains her opinion further. "Multiculturalism does not work in magazines. You have to pick a target audience and then give that audience images and articles they can relate to and that validate them. This is what made Honey the phenomenon it was in the beginning. The articles were all targeted to young working class and urban Black women and featured fashions and models that we could identify with. It was a joy to go to the stand and pick up a magazine that one month would have Lisa Lopes on the cover and
maybe India Arie or Jill Scott on the next. That however was all ruined when someone decided to take a magazine that was once aimed at Black women and make it multicultural. When I saw Jennifer Lopez and Pink on the cover, I knew what I once loved about that magazine was gone forever."
Those thoughts crossed my mind when I picked up the last copy of Vibe Vixen, the one with Mya on the cover. From the minute I read the Mediaweek announcement about the mag's imminent demise, I sought it out. I live in Miami, where it seems like bookstore owners don't see black women's magazines as a top priority. I worked at one of the coolest bookstores in the city, and was astounded when I couldn't even find a copy of Essence on their shelves. Nor at the Barnes & Noble nearest my house. The only place I've been able to find Vibe Vixen near me, is randomly at a neighborhood Publix up the street. Compare that to a city like Atlanta — the last time I went through the Atlanta airport, Vibe Vixen was displayed proudly and just as prominently as Cosmo or Glamour or In Style. As it SHOULD be.
I always sought out and bought Vibe Vixen. I decided not to subscribe — I loved Vixen from the holiday issue with Kelis on the cover — but the magazine seemed too hit or miss for me to actually lay down the credit card and subscribe. It never was quite the black Sassy that I dreamed of — there was not enough irreverence or serious reading material — but no matter. It was fun and flirty. I loved what I saw - that Kelis issue had a good weight to it, there was lots to read (although that Brooke Crittendon interview REALLY didn't need to be a two page feature), fabulous beauty tips that worked for me, and fashion spreads of women who looked like me. Hooray! Even better, Danyel Smith was EIC, and I've been mildly obsessed with her for years now. (Danyel Smith, Angela Nissel, Tia Williams, Shonda Rhimes - I am always fascinated by black women who are writing and creating and operating at the upper levels of the media ladder).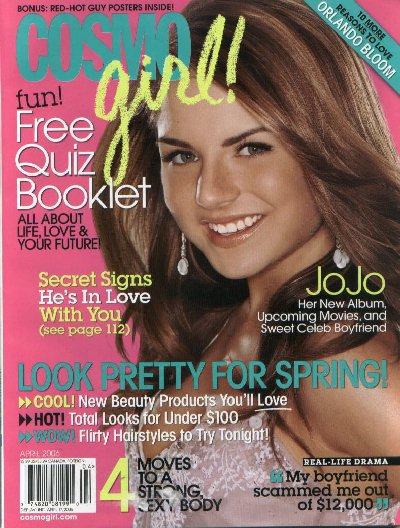 But like I was saying, Vibe Vixen was hit-or-miss from issue to issue. Check out this loving homage on The Fashion Bomb for some of Vixen's covers and best beauty photos. But that Mya issue felt like the end. The volume felt slimmer, the content felt less weighty, the ad pages were sparse and that's a bad sign… I wasn't that surprised when it folded. But I did wonder what went wrong, and why specifically black women's magazines didn't seem to have staying power. I decided to e mail Suzanne Burge, one of the owners of Honey Magazine and ask her thoughts about the demise of black women's magazines. Her response led me to believe that a big part of the issue is advertising dollars, or the lack thereof.
"I think there's a certain misunderstanding about our capabilities as Black Women. One on the Editorial side and one a misconception or disconnect from Advertisers because there really is no road map. No one to say how great we are, how are money is important and we are making the biggest decisions of our lives. I really believe that people like yourself are filling the void for a pop culture (urban) voice. Shows we have to depend on ourselves. I say 'we' because Honey is Independently owned. Seems that the Indie voices are strongest in the community and Thank God for (you all) and digital or there would be even a further disconnect…. There has been a big mismanagement in funds or content that has left us to feel that Black Female Magazines can't do it. Yes! We can, but just needs to be done by the right group," she said.
This advertising problem isn't exclusively affecting black women's magazines. It's affecting the entire print publication industry. From dailies to weeklies to glossy magazines — all across the board, publications are feeling the pinch. Look — Jane magazine also closed, as did Elle Girl. Add the lack of incoming revenue to the advent and rise of the bloggers, and magazines have it even rougher. Suzanne continued to discuss that angle: "I want Honey to have a long life. We had to improve our technology, it's just a start.. but at least there is a place to connect before we come back out. Without community it's corporate speaking to readers.. one sided.. 6 weeks after the fact. The Web is the new form of photojournalism for the demo [demographic]. There is a place for both mag and web… but both should include community, resources and benefits. We have it better now than any other generation. "
I see what she means. The web is revolutionizing the industry. You don't have to wait six weeks to read the hottest summer hair tips, you can Google that, or visit your favorite beauty blog, and find something immediately. And Honey's doing it smart, by offering a platform to some of the hottest black bloggers in the game.

Now those black women's print magazines that closed — Vibe Vixen, Honey — have online versions. But Jane, daughter of Sassy — is totally no more. Visit Jane online and you get a sweet letter from Glamour –"With regret, Jane and janemag.com is no longer being published. In its place, we invite you to explore Glamour magazine and Glamour.com. We think you'll love Glamour.com. Like Jane, it's packed with everything smart, sexy women want to know — about your body, your beauty, your relationships … and more!" Damn. And thanks to that recent "black hair is a corporate don't" scandal, Glamour just proved to me that they don't get me.

They don't understand that for black women, natural doesn't necessarily equal political. By expressing that belief that every other race can wear their hair as it naturally grows, but black women shouldn't because it's "a fashion no-no", they've distanced me as a reader and as an aspiring freelancer (there goes that article on the natural hair movement I was planning to pitch).

I can't tell you how mad the quote Jezebel featured made me: "The style maven said it was 'shocking' that some people still think it 'appropriate' to wear those hairstyles at the office. 'No offense,' she sniffed, but those 'political' hairstyles really have to go." And Glamour hasn't yet responded to reveal the identity of the editor or to discredit the story by - gasp - actually featuring natural-haired black women in their magazine. I have one thing to say to that, and since I've taken a vow not to cuss on this site, this guy's eyebrows say it best. More on workplace hair later.

Whatever - I don't need Glamour to tell me whether I'm a do or don't. Despite the pitiful state of women's magazines, Suzanne Burge is right. We have it better now than we did before, thanks to the plethora of blogs and websites out there right now. We've got Clutch — I love Clutch! We've got Trace. And Lavish Magazine. And Blk Grl. And YMIB. Every week I get a new e mail from another new blogger, or another online magazine that's just started and is offering fresh content to satisfy the disenfranchised print magazine readers.

The voices of black women of all varieties — thick, thin, relaxed, natural, all shades of beautiful — are out here, ready to be heard. Currently, I only read a few women's print magazines — I subscribe to Bust, and I buy O, the Oprah magazine regularly. I also am loving Essence (that Jill Scott cover was fire!) and I'm feeling Ebony's new direction. The latest issue is just incredible. And when I need a satisfying read from a perspective that isn't in print — a perspective I'm looking for and identify with — there's more and more brilliant black beauty and fashion sites popping up every day.

Do you have an online magazine or blog, or a favorite daily online read? Hit me up in the comments and tell me all about it! There's room out here for all of us, and I'm constantly seeking fresh inspiration and more reading material.