Toronto Website Design &amp Toronto SEO
A Guide to Feminist Music
By Sharon Parker
I was watching VH1 this past spring and happened upon a special entitled "The 100 Greatest Women of Rock n' Roll." Delighted, I sat and watched for five hours as five special guest hosts counted down through one amazing female musician after another. A few months later I came across VH1's "100 Greatest Artists of Rock 'n Roll." To my horror, very few of these artists were women. The handful of women that I saw were amazingly talented, but token women nonetheless. I don't know what the powers-that-be at VH1 thought they were doing. Maybe they felt that women would be placated by having their own Top 100 list. I know that I was left feeling disgusted and convinced yet again that as much progress as women have made in this world, we still have a long way to go.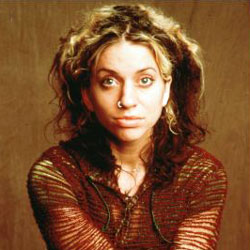 The truth of the matter is there is a wealth of female talent in the music world, both from the past and the present. I've put together some of my favorite picks of female artists whose music every feminist should have. Some of these are self-proclaimed feminists, some are feminists (in my opinion) by virtue of their actions, but all are worth listening to. This guide is not meant to be the be-all and end-all of feminist/women's music, but rather a starting point for a must-have collection of female musicians, as well my own personal trip down memory lane.
Ani DiFranco is the quintessential outspoken young feminist who has been pumping out records on her own label since she was eighteen years old. Now, over ten years later, she's not only turning out a new CD every six months or so, but producing albums for other artists as well. Ani has written songs about everything from body image to bisexuality, covering just about every topic in between, using painfully (painful for the person the song is about) honest lyrics. How can anyone not be excited by the lyrics "Fuck you for existing in the first place"?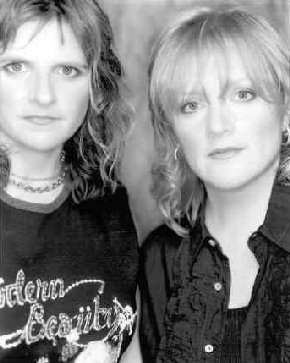 By contrast, the Indigo Girls (Amy Ray and Emily Saliers) have been enthralling fans with their thoughtful, philosophical lyrics and soaring harmonies. I remember hearing them and being absolutely floored by the fact that they wrote songs about something other than unrequited love, true love, and broken hearts because their loves had left them. Instead I was hearing songs about subjects that meant a lot to me, such as finding oneself ("Closer to Fine") or the sheer joy of being alive and not wanting to die ("World Falls"). The Indigo Girls are also avid activists, preferring to work for the causes they believe in rather than just endorsing them, for example, dedicating two months of touring time and proceeds each year to the Honor the Earth campaign, which benefits environmental and Native American causes.
Melissa Ferrick is a singer/songwriter out of Boston who has been around for several years but who has lately been getting more and more attention. Though she is described as a folk singer, her energetic guitar and vocals borders on acoustic hard rock. Melissa has a few political songs, but her strength lies in her being an open lesbian who unabashedly sings passionate songs, some that leave her audience wanting a cigarette when she's finished. Not many musicians can handle a guitar the way Melissa does, and while her recordings are excellent, her live performances are even better.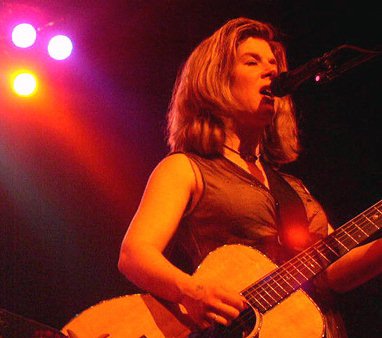 Witty, bitingly sharp lyrics and melodic guitar are Dar Williams' trademark. Unlike many other musicians' work, hers was already excellent from the beginning and she's only gotten better in the past decade. Dar is not as prolific as other artists, having put out four solo CDs in over eight years, but when she does release a new album, it is well worth the wait.
No feminist music collection is complete without representation of the women who paved the way for our current favorite female artists. Of course, everyone automatically thinks of singers such as Aretha Franklin (number one on VH1's Top 100 Women of Rock 'n Roll), Joni Mitchell, and Joan Baez. These women are amazing, and I personally lust for a copy of Aretha's Greatest Hits, but I think that we modern feminists need to live a bit more dangerously.
My first cassette tape back in 1982 was a copy of I Love Rock n Roll by Joan Jett and the Blackhearts. I don't admit this often, but I wanted to be Joan Jett when I grew up. Joan made unapologetically crude and loud music that was nevertheless fun to listen to. Despite the fact that her few female contemporaries at the time sold their looks and their cleavage as well as their music, Joan was not seen posing in low cut shirts or high skirts. Instead, Joan was up on stage holding her own against the big boys. After coming out as a lesbian a few years back, Joan has been playing at gay pride celebrations that bring together "straight but not narrow" head banger boys and enthusiastic dykes peacefully.
Pat Benatar, a bank teller who had been trained in opera prior to her rock career, has been on stage since 1979. In the beginning of her career, Pat was one of the many female artists on the scene who was told that she had to sell her body as well as her music. However, Pat became tired having her music be second to her image and decided it was time to take a stand. She wrote a song called Taking it Back and changed her outfits and album covers from showing her standing in a steamy, half-naked pose to depicting her covered in several layers of clothing and straightjackets (with the most unattractive hair imaginable). She appeared in one of her rock videos several months pregnant. Pat is still touring and recording and is still as talented as she's ever been, using her operatic range and hard-edged vocals to wow fans over twenty years after her debut.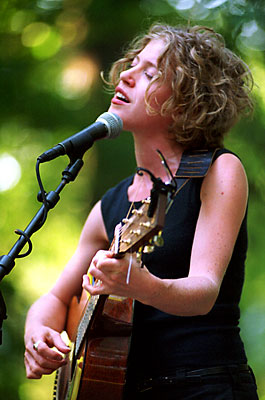 There are many other female musicians out there worth listening to, with CDs well worth owning. Tori Amos, for example, made angry yet beautiful music mainstream with her CD Little Earthquakes, continuing to release albums full of brilliant lyrics and heart stopping piano accompaniment. Catie Curtis (a native Mainer) is an impressive folk singer/songwriter whose thoughtful lyrics and acoustic guitar work make her a must-have for the feminist collector. Aimee Mann, formerly of the '80's pop/rock band Til Tuesday, is another bitingly funny songwriter and one of my personal favorite rockers who has been making music on her own for the past decade.
There are too many musicians for me to name in this article, but luckily there are several sources where any interested person can find them. One is the Respond CD, which features a wide variety of singer/songwriters, including well-known women like Patty Larkin and Cheryl Wheeler as well as talented up-and-comers such as Lori McKenna, Kris Delmhorst (the only songwriter I know who has alluded to rumble strips in a song "Red Herring", and did it well), and Jess Klein. Another place to hear one or all of these women I've written about is our own beloved radio station, WUMF, where there are usually at least three two-hour shows each week featuring great women artists. I hope that this guide will be helpful to all eager music-loving feminists who are looking to expand their collections. Good luck!
---
Downloading MP3s:
Dar Williams - When I Was A Boy
Ani Difranco - Blood In The Boardroom
Ani DiFranco - Untouchable Face
Indigo Girls - Least Complicated
IF YOU LIKE THE MUSIC AND
WANT MORE GO BUY THEIR CDS.