Rising Raunch
Ariel Levy, author of the 2005 book "Female Chauvinist Pigs: Women and the Rise of Raunch Culture," takes a darker view.
"It gives them a message before they are even sexually active. They have already been taught through music videos, reality TV, My Space, etc., that part of the job of being a female is to put on shows of wantonness . . . even if it has nothing to do with what you want," Levy said in an interview. "Young women are trying to look and behave like those images, as if they were porn stars. As if being able to incite lust is women's work. That's just your first job, inciting lust."
Many young women in the study seemed to share Levy's dismay.
"Women that sell their sexuality on TV influences the way we want to be," said a 16-year-old student council representative. "For girls that already have low self-esteem it makes them feel even lower."
"The way women are portrayed in the media causes domestic violence," a 15-year-old said.
Levy says "raunch culture" has taken words such as "empowerment" from the women's rights vocabulary and applied it to sexual exhibitionism. "As if stripping was empowering and sexually liberated; all the emphasis is on performed sexiness," she said. "It's not empowering. It is trying to teach women that strong and hot are the same thing. It is not. Raunchy does not mean empowered."
At least one teen in the poll seemed to agree that the trend toward hyper-sexualized female pop stars did not serve their sense of empowerment.
"My parents' generation had the '60s and '70s, women's rights and the Beatles," she said. "What do we have? Paris Hilton."
---
Pop Singer Pink Makes Slaving for Beauty Look Ugly
By Courtney E. Martin
Pop singer Pink's "Stupid Girls" hit song and MTV video expresses outrage at young women's self sacrifice to beauty and fashion. Some have applauded her for being outspoken, while others say the song's name is insulting.
Pink - She leans over the sink in the bathroom of a hot nightclub, sticks a toothbrush down her throat and vomits while screaming, "I want to be skinny!"
This is just one scene of the action-packed music video for "Stupid Girls," first aired on MTV Jan. 26, as the first single released from pop star Pink's most recent album, "I'm Not Dead."
Pink--born Alecia Moore on Sept. 8, 1979, in Doylestown, Pa.--has built a reputation for being sassy since her debut album, "Can't Take Me Home," in 2000. The "Stupid Girls" video, though, and another controversial track on the album titled "Dear Mister President," have certified her as a rebel.
Early sales figures reveal a fan base hungry for her message. "I'm Not Dead" will most likely compete with her previous successes: 2003's "Try This," which has sold 700,000 copies in the United States, according to Nielsen SoundScan, and its predecessor, 2001's "M!ssundaztood," which has sold 5.2 million copies to date.
Played over and over on MTV, the "Stupid Girls" video parodies conspicuous consumption, cosmetic surgery, eating disorders and vacuous celebrities. One refrain also raises a puzzling political question: "What happened to the dreams of a girl president?"
"Stupid Girls," which is the top debuting single of 2006 so far, has spilled beyond the usual TV and Internet margins of pop music. It has been taken up by bloggers interested in pop culture and feminism and has been discussed in high schools, colleges and families across the country.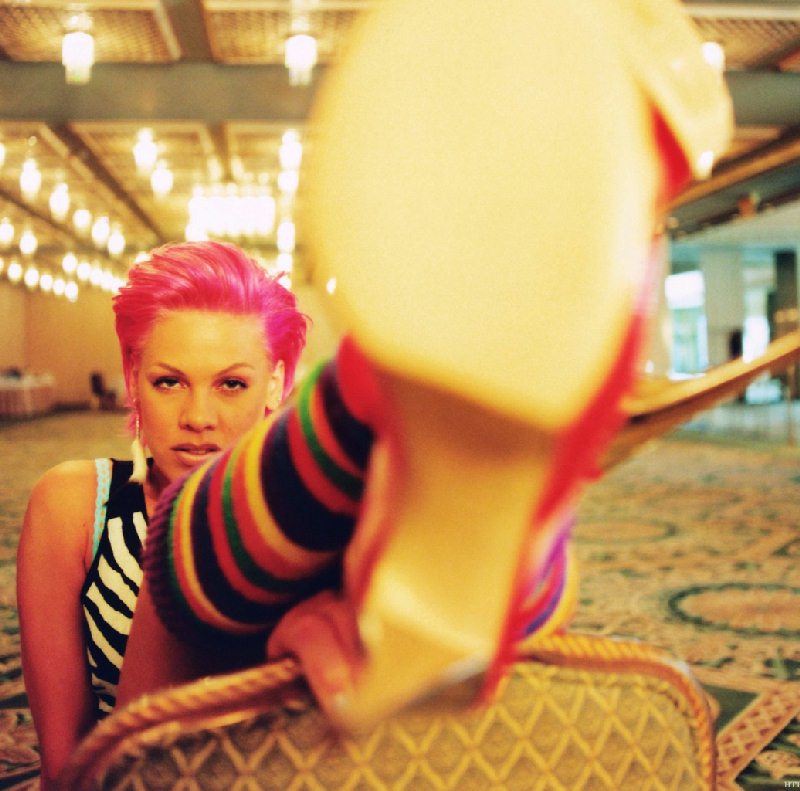 'An Important Message'
"I am a mother of a 10-year-old daughter," reads a posting on Pink's Web site. "A few weeks ago I came across Pink's song 'Stupid Girls' on MTV. I immediately called my daughter into the room and we watched the making of the video together. What an important message."
With a broadcast range of 169 countries and 28 languages, the "Stupid Girl" video on MTV resonates internationally. "I am just glad that the girls from my classes (who are having a hard time growing up and finding their way) can listen to your songs," an English teacher in a German high school posts on Pink's site. "We sometimes talk about your lyrics in class."
Pink--one part pop, one part rock and one part hip hop--pens her own testimonial to her song and video. "A lot of people are relieved that someone has finally said something about the mindless epidemic of unhealthy girls out there promoting consumerism and escapism," she writes on her site.
In an early April appearance on "The Oprah Winfrey Show," Pink emphasized that the main message of her controversial video is that "smart and sexy are not oil and water."
Slaving Away
Another message that Pink conveys--as she falls off a treadmill, fake tans herself bright orange and lies on a gurney waiting for the surgeon's knife--is that slaving away to look good is ugly.
Jessica Weiner, author of the 2006 "Do I Look Fat in This?: Life Doesn't Begin Five Pounds from Now" book, which exhorts active self-acceptance, applauds the message. "We do have more opportunity open to us as girls and women and yet we starve out this freedom, nip and tuck it, focus on the surface and don't show up to vote, protest or make noise."
Social activist Adrienne Brown, co-author of the 2004 book, "How to Get Stupid White Men Out of Office: The Anti-Politics, Un-Boring Guide to Power," agrees. Brown calls the behavior that Pink mocks "a distinct brand of political paralysis" and says the singer is telling girls and young women "to be alive and active and fearless . . . the implications of which could include power: voting, advocacy, protest even."
Pink has also stirred uneasiness, in part because she is perceived as attacking women rather than darker forces at work in mass culture.
Culture Draws the Image
"My initial reaction was, 'Thank God someone is taking this stupidity as cool nonsense and doing something about it'," writes Feministing.com founder Jessica Valenti, who featured a link to the video on her blog. "But it also kind of made me sad. Should we really be calling each other stupid? That's not doing anything to solve the problem of how young women are being portrayed. Why aren't we analyzing the culture that demands this kind of image from them?"
Audrey D. Brashich, author of "All Made Up: A Girl's Guide to Seeing Through Celebrity Hype and Celebrating Real Beauty," which was published last month, wonders if Pink's commercial medium can be trusted to convey a serious social message.
"Pink's marketers might have just tapped into the song because they thought it was funny, or because they like the 'catfight' aspect of it, not because they recognize the importance of its contribution to cultural debate," says Brashich.
A young woman posting on Pink's Web site felt maligned by the video: "I myself am struggling with binging and purging, but I am not a so-called 'Stupid Girl'. I have a high GPA, and I'm a very independent girl, but I am still struggling with bulimia and I was really disappointed to feel lumped in with the bimbos in your music video."
On Oprah, Pink explained what she means by stupid. "My definition of stupid is wasting your opportunity to be yourself."