Toronto Website Design &amp Toronto SEO
We Are the Grrls: Women in Music Before, During, and After Riot Grrl
By Trisia Kulaas - September 2010.
Growing up, I was fortunate enough to have parents with amazing tastes in music. My dad is a professed punk-lover, and rocking out to the Sex Pistols, the Ramones, and Siouxsie and the Banshees was not an uncommon occurrence at home—when my mom could tolerate it. She preferred metal and grunge, and introduced me to bands like Rush, Alice in Chains, and L7.
As a child, I recognized that women could rock just as hard—and sometimes even harder—than men, and my parents provided me with ample proof, from bands like Blondie and The Rezillos to Heart and Lita Ford. In fact, it wasn't until I began attending school that I learned about the dichotomy society had created between men and women, more specifically in music. The boys I hung around at a young age mostly listened to male musicians, and the girls listened to bands like Britney Spears and Spice Girls. And while I joined in the adoration of bubblegum pop princesses, I still clung to my punk, post-punk, and new-wave tapes my dad made me, and wore the hand-me-down plaid sweater, torn jeans, and Converse high-tops (decorated with neon fabric paint by my mom and me) as any daughter of a self-respecting grunge-woman should.
Unfortunately, I had been too young to participate in the Riot Grrl movement, a period in time that makes me wish desperately that I had been born ten years earlier in order to experience it in its full-fledged badass-ness. Yet a close connection developed between me and women musicians (although some connections, I am ashamed to admit, were between the female artists the movement strove to avoid becoming), and although I have never acted on my intense desire to form a female-fronted punk group, I find myself listening to the bands involved in the movement and allowing myself to be influenced to this day by Riot Grrl ideals and the music that voiced them, idolizing the same punk goddesses they did and appreciating the new wave of grrl spin-offs as I'm sure they do.
Despite its brief yet powerful existence in the early 1990s, this movement spawned ideals in music and in young-women politics that continue to breathe and breed in this day, regenerating more and more bands integral in the representation of women as musicians as more than virgins, vixens, and bimbos. Riot Grrl may not be thriving as it once did, but its tendrils still weave in the underground it once inhabited, winding around young girls looking for righteous representation in a male-dominated society and music industry, listening for voices who sing in anger the same issues girls and women try to scream in a society deaf to the problems and desires of females. A new wave in feminism may be festering in the grave of the last—and we need it just as badly as ever.
Proto-Riot Grrl
Musically, Riot Grrl influences stem back to nearly three decades before its birth in the late 1980s/early 1990s. At the earliest, influences included Janis Joplin, frontwoman Grace Slick of Jefferson Airplane, Joni Mitchell, Carly Simon, Carole King, Stevie Nicks of Fleetwood Mac and also of a solo career, and Suzi Quatro. These women made powerful, household names out of themselves through hard work and sheer talent in a male-dominated music scene, rising above the typical women roles in rock as groupies or muses, subservient to men in music. Women's liberation bands with heavily political songs about their bodies and women's rights also paved the way; many of the grrls involved in the movement had mothers active in second wave feminism who listened to this music.
Female musicians proved to be heavily important during the second wave in the 1960s and 1970s. At a time when overly-masculine progressive rock bands dominated, women-centric music took backstage to fifteen-minute instrumentals and laser light shows. Even gender-bending glam rock, with artists like David Bowie and Elton John who played with their sexuality and roles as men, left out women; "women were so shut out as cultural creators that even when femininity was valued, men were still the vehicle" points out Marisa Meltzer, feminist and coauthor of How Sassy Changed My Life (an ode to Sassy magazine), and contributor to publications such as The New York Times, Bitch, Spin, Nylon, and Teen Vogue.
When punk came along, it gave boys and girls a new way of viewing their sexualities. Punk girls became freer to express themselves with fewer frills. The "no skill, no problem" mentality of musicians encouraged both girls and guys to hop on stage and give playing a go—and it didn't matter if the girls didn't sing quietly. Punk appears to have borrowed the sense of collective community responsibility from the second wave movement, yet also instilled pride in members for individualism; being an outcast was cool, and that provided an entirely new archetype for women involved in the punk scene.
However with all the potential punk seemed to possess for reformatting the roles of women—especially in music—all-girl punk bands still suffered comparison to male counterparts, despite the rejection of gender norms. One punk supporter, Sharon Cheslow, explains, "That's what punk had taught me, that I should be free to create as a girl. Not to support a guy or be one of them, but to be respected by the guys" (Meltzer, 8). However, punk contained merely a few token women musicians, and the most heavily-cited influencer, Patti Smith, rejected feminism. It's highly probable that at the time, identifying as a feminist in such an exclusive group would make a woman's non-maleness even more the center of focus, and women found it hard enough to be accepted as a musician. But women like Chrissie Hynde (The Pretenders, as well as various punk bands), Smith, Siouxsie Sioux (Siouxsie and the Banshees), Poly Styrene (X-Ray Spex), and Joan Jett (The Runaways) still provided female followers with strong women role models.
Meltzer suggests that perhaps feminism was too mainstream for punk at the time, leading to punk's rejection of the movement. But by the late 1970s, punk had evolved into hardcore, a genre which further marginalized women. The environment at shows became much more hostile and dangerous, and women could no longer rock the way they had been able to.
Riot Grrl: The Beginnings
By the 1980s, bands in the Washington DC areas began to write more rape- and harassment-aware songs in the turmoil of their area. Bands in the Olympia, WA, area began erupting in song with similar concerns and soon the movement spread across the United States, then into Canada and Engalnd, a hotbed for punk music. It became gradually more common for girls to form bands and many of these young women were also feminist activists or writers, and had recently graduated from college (which is rife with ideas of radicalism and revolution). Bitch magazine's cofounder Andi Zeisler remarks, "You're at the age where militancy is paramount, like when someone takes a women's studies class and realizes, 'I'm not the only one who's bummed out when my boyfriend asks me to hold his jacket when he goes into the mosh pit'".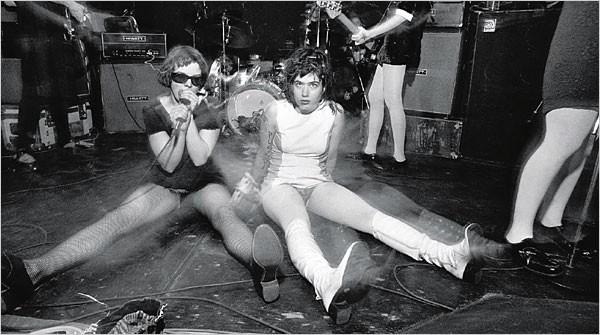 An essential Riot Grrl band, Bikini Kill, took up the task of getting the riot ball moving, drawing inspiration from the zine Riot Grrl. The zine sought to reinvent feminism for the new generation, working as a manifesta to fight—like a girl—against the Man. Tobi Vail, member of Bikini Kill, explained, "One of the ideas we were working with in Bikini Kill was that if girls started bands, it would transform culture—and not just empower them as individuals, but change society. It would not just put them in a position of power, but the world would actually change. As a young girl who was frustrated by a lack of women in music who called themselves feminists, I saw a need to change that" (Meltzer, 11).
Zines and music began to circulate, expressing strictly feminist concerns through do-it-yourself, politically informed media. As Kristen Schilt (a sociologist who focuses on youth culture, music, and teen girls) and Elke Zobl (creator of The Girl Zine Network website with a PhD in Art Theory and Cultural Studies, Zobl focuses on media production, youth culture, gender studies, and social change) put it, "using these and various other means of subcultural production, this loosely knit grassroots movement combined a feminist consciousness with punk aesthetics and politics" (171). Many regard Riot Grrl as a mere spot on the timeline of punk music evolution, but this neglects the complexity of Riot Grrl as a political movement that served as an inspiration to girls and young women, encouraging them to express resistance against the roles, the expectations, and the oppression as a direct result of sexism within the punk scene and in mainstream society.
The do-it-yourself (DIY) ethos stems directly from the punk movement. This method supports punk's and Riot Grrl's strong opposition to commercial success, the goal of mainstream artists. Instead, the movements' goals were/are to express independence from the capitalist economy, providing an alternative economy through their originality. Feminists in the second wave also published their political ideas in pamphlets and magazines, serving as the prototypes of the zines grrls began to produce. In fact, Riot Grrl sought to create alternative spaces for women in the late 20th century much like the feminists in the 1960s and 1970s.
While Riot Grrl may have evolved out of punk, it began as an angry response to sexist treatment within the movement. The hardcore and thrash scene after the woman-friendly proto-punk saw a significant decrease in female participation and attendance. The misogynistic atmosphere proved hostile to the expression of female self-empowerment, anger with traps in society's interpretations of feminism, and female sexuality. So, girls sought to carve a place of their own in a rebellion-friendly movement. The Riot Grrl zine created by Molly Neuman and Allison Wolfe helped begin chipping away the surface. "We wanted to do a fanzine that was fun and urgent and smart and confrontational. We passed them out at shows and had meetings with other girls to discuss issues of feminism and punk and support and skill sharing", explains Neuman (Schilt, Zobl, 174).
The sharing of these skills important in more areas than just the movement also established a link between girls, another goal of Riot Grrl, making growing up as a girl a shared experience and not an isolated one. The larger culture refused to discuss taboo subjects in the public sphere, confining girl issues of incest, rape, and eating disorders to the private spheres of girlhood. Punk even failed in this aspect, refusing to address girl taboos in a supposedly female-friendly space.
Riot Grrl also encouraged girls to avoid becoming passive cultural consumers. Girls began to hold meetings á la consciousness-raising groups of the 1970s, yet differences remain between third and second wave feminist movements. The second wave regarded certain aspects of girlhood frivolous (playing with dolls and wearing markedly feminine clothing), listened to womyn's music (usually folk-influenced, like Melissa Etheridge, Bonnie Raitt, and the Indigo Girls), and worked to achieve organization to become an adult with a stable job, an aspect foreign to rebellious and creative types. Girls tend to outnumber women in popular music, and young girls are more likely to remain true to their ideals, speak their minds, voice anger, be confident, have pride in individuality, and find happiness in challenging authority (Meltzer, 16).
Girl power embraces these frivolities and these attitudes possessed by young girls, using them to empower and find a voice true to their selves. New York music scene lover Stacy Forte admired that, "all these girls were girly enough to carry handbags and wear lipstick but were still tough. It seemed like a higher form of feminism, to embrace girliness and throw it in everyone's faces rather than trying so hard to be macho" (Meltzer, 19). It should be noted also that Riot Grrl strived to make women's creations valid in the eyes of societies, and show that what they produce can belong to the culture as a whole and not just women.
The music of the movement served to inspire the girls within it. The sound tended to match the style of the girls who participated; many bands mixed the soft with the brash, the wail with the pleasant, the quiet and the loud—much like their mixture of messy hair and makeup coupled with very feminine dresses, skirts, and accessories. In regards to women and feminism finally having a place in rock music, musician Liz Phair once said in an interview that for girls, watching a woman onstage is like having someone in a movie that you can follow. It's like having a character you can live through. And for so long, they didn't. You go to a rock show because you want the guy to stare at you. You want to be noticed and singled out as an object. And this time, they are watching someone and pretending they are her. And that's a very good experience, I think, for the self-esteem of the young American girl.

- Meltzer, 20
Phair makes a really good point, drawing a connection between the personal experiences at a rock concert and the sexism in music industry. At a male show, female audience members can't imagine themselves in the positions of the men on stage, but at women-fronted shows, the idea becomes more tangible and inspiring. This quote also points out the reversal of girls' roles at concerts, from the object seeking to be noticed by the male, to the subject within her fantasy in becoming the woman on stage, rocking out and kicking ass.
Women became the subject rather than the object in more ways than one, of course. Song content discussed issues central to those of women, exploring issues like rape, sexual violence, and body image. "At some point, even in a basement in Olympia, you could be like, 'This is my cellulite, don't rape me, fuck off", explains Seattle writer Mairead Case (Meltzer, 23).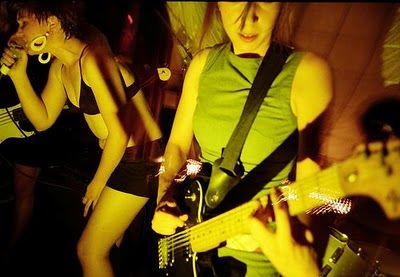 Punk Propoganda: The Zine and Ladyfests
An important goal to the Riot Grrl movement, the desire to define their feminism in relation to their mothers', manifested in the various declarations and manifestas created within their zines. These pieces of feminist literature cried for a "Revolution Grrl and Lady Style, Now!", all within the pages of self-published and self-distributed magazines, created by and for queer and female youth. Within a constantly growing and evolving network, the movement easily distributed their zines through music clubs, independent record labels, record stores, and zine distributors ("distros").
According to Zobl, "zines can vary widely in design (from photocopied collages to color-printed magazines) and content (from sharing intimate personal experiences to political activism). Print zines are exchanged among friends, and sold at distros, concerts, bookstores, coffee shops, and record stores" (448). Content also includes collages of pictures of women, essays, and vegan cooking recipes, and address issues like "self-defense, women's health, Riot Grrl, lesbian, queer and transgender issues, feminist parenting, music, and pop culture (Schilt, Zobl, 172). When the internet became more accessible, e-zines began their existence, written by "cybergURLs" and allowing anyone with internet access to become in-the-know—important in including girls with no access to the independent music scenes hard-published zines depended upon for distribution.
Zines served as powerful instruments for women and girls in analyzing and deconstructing the portrayal of women in society. Notable zine compiler Leah Lilith Albrecht-Samarasinha provides powerful insights into zine writing, adolescence during Grrl Power, and the flaws of the movement. In her zine Patti Smith, named after her greatest influence as a grrl, she published articles by herself and other teenage girls about sex and depression that couldn't get published in school newspapers and magazines because they were "taboo subjects". Many of her subjects, in fact, involve dealing with sex, suicide, eating disorders, life as an adolescent queer, and inter-familial abuse, "with a protogrrl aesthetic" (Albrecht-Samarasinha).
A rare type of contributor to the Riot Grrl zine network, she explores her experiences as a mixed-race, working class, identified queer adolescent, and felt that the movement "did not understand or respect my colored girl, leather-dyke, femme, survivor self" (3). Yet to her, the important connection lied within the notion that grrl zines and music linked angry girls, identified as outsiders of mainstream culture, reassuring her that she wasn't the only "freak"; to love one's freakishness; and create personal liberty through expression. Albrecht-Samarasinha remarks that "it was a movement founded in the ideas that girl love can save the world, that grrl unity can conquer all—which it can't, and those of us who realized that ended up moving further out, creating our own new freak zines" (4). The writer acknowledges the movement as a good starting point for women to get their expressive ball rolling, building up their empowerment for lives as women transitioned from grrls.
Ladyfests began to be organized in Olympia by ex-Bikini Kill member Tobi Vail, and were festivals consisting of feminist art, music, and activism. The idea originated from the same grassroots, DIY ethics as other elements of Grrl Power, and served as a means to spread "platforms for feminist, queer, and transgender art, activism, culture, and politics that encourage young women and feminists to take the self-empowering leap from consumer to cultural producer/performer/organizer" (Zobl, 449).
With these products of the DIY ethos, grrl power has managed to create new symbols, codes, and images for self-representation while participating in communities provided by sharing information through zines and Ladyfests. Doing-it-yourself, for Riot Grrls, meant self-empowerment through self-expression shared through self-created works, which resulted in a liberation from the mainstream economy. By meeting within their local chapters, distributing zines, playing in bands, and organizing and attending shows, Riot Grrls found creative, expressive outlets for feminist ideals and women's and human rights.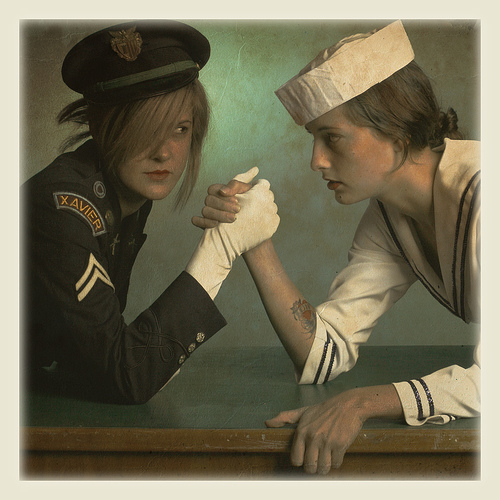 Girl Power Politics
One of the most important issues that surfaced in the Riot Grrl movement, female sexuality, emerged in its most concentrated form yet. Grrls within the movement demanded the reclamation of previously insulting terms by writing "whore" and "slut" on their bodies, oftentimes with lipstick, in order to empower sexual freedom and call attention to the taboo subject of young women's (and that of women's in general) sexuality and desire. While the movement never really provided a solution to dealing with this sexual energy (how should a girl deal with this pent-up desire?), it certainly raised questions and awareness regarding this subject. Riot Grrl also reclaimed "girl" (as "grrl", like a growl) and "lady" "to indicate an identification with feminism, queerness, and an alternative youth community" (Zobl, 445).
Bikini Kill's Riot Grrl Philosophy published in their eponymous zine raised many other cultural/political issues and critiques grrls shared. The list the band provided included the desire to figure out how what the grrls do impacts, reflects, perpetuates, or disrupts the norm, seeking alternatives to "bullshit christian capitalist ways of doing things" (476). They value communication over competition, and support ideals that validate and challenge individuals in order to strengthen them and form stronger communities, which are needed in order to eliminate "bullshit like racism, ablebodyism, ageism, specieism, classism, thinism, sexism, anti-semitism and heterosexism". And like punk, the movement strives to dismantle capitalism, searching for an alternative economy more conducive to sharing information instead of profiting because one fits in the norm.
As a response to the hierarchical position in punk music, Riot Grrl created a decentralized form of rule within the movement. The environment is supportive and unity-minded, allowing young women to share experiences and insights without feeling threatened or dominated as in mainstream society. By eliminating the middle man and following the DIY method, grrls spread a political agenda and call to revolution without the restrictions of male control and eliminating the hierarchical roles between performer and audience member at music shows.
Anyone who identified as feminist, punk, queer, or Riot Grrl could participate, and in the United States unfortunately, these participants mainly came from middle- and upper-classes, had college educations, and were white women in their late teens and early twenties. The movement began with college-aged young women hungry for social revolution in an open environment for possibilities, and the movement was not able to spread much more. Some males were allowed, depending on issues discussed in chapter meetings. The women and girls within the movement have once again reversed roles—from consumer to producer, from listener to speaker, from reader to creator, from audience to performer—and the result is empowerment as an active and critical member of the movement.
Seeking to break away from the Riot Grrl movement and become more directly involved in politics, some political activist groups were created by women in the early 1990s to extend the reach of their voices. Nicole Panter and Exene Cervenka founded the Bohemian Women's Political Alliance, a "pro-woman, pro-choice, pro-child, pro-minority, pro-queer, pro-Earth, prolific, prodigious, profane, pro-arts, pro-change, pro-union and anti-censorship" (Beyette, 1) political activist group. The founders both share punk roots, and seek to further women's rights within the political sphere by fundraising for Bohemian-friendly (and female) politicians, providing women of the working class and Bohemian lifestyle with rightful representation in the US government.
In the Alliance's manifesto, the women declare, "We are the weird girls who didn't fit in… the little girls your parents wouldn't let you play with… the teenagers who dressed in black, the bad girls who climbed out of our bedroom windows after dark and caught taxis home at dawn. We are the daughters of Lilith, Lily Munster, Patti Smith and Emma Goldman. We are the women your preachers warn you about" (Beyette, 1). Similarities to Riot Grrl extend beyond ideals shared in their manifesto into ideas of decentralizing government and the identification of mainstream organization as decidedly male-dominated. In fact, it was this attribution of patriarchy to the media that fueled a deadly war between the mainstream media and the Riot Grrl movement—a war that ended with a clear winner.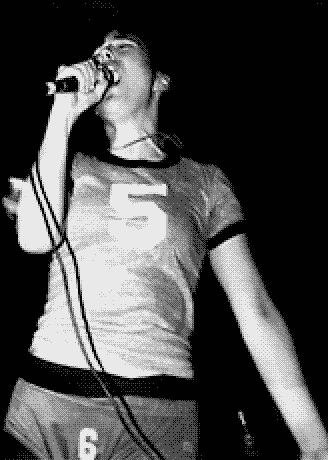 The Media VS Riot Grrl
As Riot Grrl began growing nationally (and internationally), it seems only natural that media coverage would become more intensive. Yet Riot Grrls refused to cooperate for interviews as a part of their stance against mainstream patriarchy, and the misrepresentative mainstream media depictions of members of the movement began to circulate. Magazine articles and music news commonly pitted bands and important women within the movement against each other, creating rumors of rifts between friends and rivalries between musicians, perpetuating the stereotype of competitive, catfighting women.
The mainstream media searched for any way to disunite the threat of strong, powerful women coming together to make a change, and they exploited any opportunity to tear apart women dangerous to a centralized patriarchal institution. The mainstream also served as an excellent tool in pointing out the sexism in the music industry, using derogatory terms to describe female musicians, almost as if to say, "Whoa! She's pretty good for a girl. And kinda hot, too!" They also grouped female artists together, undifferentiating them (according to Anna Feigenbaum, professor of communications at Richmond University with an interest in gender, sexuality, climate change, and migrant rights) and thus demeaning, confining, and marginalizing them—especially women of color. Magazines, news articles, and footage worked together to make the women within the movement appear ridiculous, immature, angry with men, and intoxicated with feminism.
In a Rolling Stone article, "Grrls at War", the writer pits women rock veterans as being jealously against Riot Grrl. The article also explores the flaws of the movement without acknowledging the benefits it had on young women as an outlet in a culture that usually silences them, and portrays the grrls interviewed as naïve. Maggie Vail, sister of Tobi Vail of Bikini Kill, remarked, "It was such a creepy time period for the mainstream media. They co-opted everything and they eventually co-opted Riot Grrl" (Meltzer, 31). More attractive women became pin-ups in the mainstream, because they were "hot" and wearing little clothing—a way to draw major capital on the bad-girl image after which hetero males lust; they didn't understand or probably want to investigate the feminist ideologies powering the movement, and the masses fed by the mainstream media saw only what the industry wanted them to see: the fashion of the riot grrls.
In response to the unfair and disrespectful representation, Riot Grrl called for an all-media blackout, absolutely refusing any interviews or phone calls with the press and completely shutting them out of their movement. Yet they forgot about young girls living in places without local music scenes or feminist existence. Girls in such areas may have wanted or needed such a message or a connection with a community in which they may feel an important part of, and a movement cooperative with the press may have presented such an opportunity in those areas.
Around 1994, Riot Grrl began to implode as the group divided into two sects: women involved for political reasons, searching for ways to discuss political identities and organizing benefit shows, and women involved for personal gain, seeking to popularize their zine or band. Bands began to break up, grrls in the movement moved on to positions in life for womyn, and it seemed that the zine was the only surviving component of the girl power revolution. The mainstream popular media had attempted to discredit young feminists' views, invalidating their anger and their experiences, and thus making them disappear. They succeeded in disbanding the collective, destroying the Riot Grrl community, and once again women were individuals, left to face the harmful values held in patriarchal society mostly alone.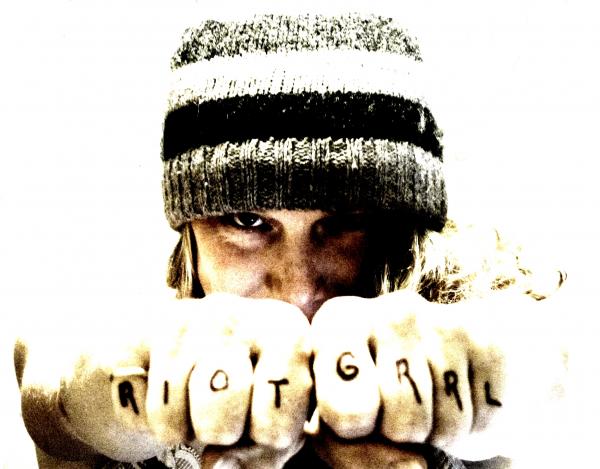 Critiquing Grrl
Despite the determination to revolt against the mainstream and ensure girl-style liberty for young feminists of the era, many of the pitfalls of the Riot Grrl movement are unfortunately similar to those of our society. Within the movement, there was an obvious divide between insiders and outsiders; it was like high school, in which the popular, hardcore girls were visibly separated from the unpopular followers. And following in suit of many other music subcultures, Riot Grrl reflected race and class issues found within society. If a girl was not white, hadn't attended college, and not middle-class, then she was marginalized within the movement, and her experiences were rarely acknowledged and her desires never met.
This is not to say they Riot Grrl movement was not accepting; they encouraged minority women to participate—they just lacked the means and the knowledge about how to embrace and acknowledge differences. The term "grrl" itself also confines girls to a feminine box, ignoring non-femme identities, as pointed out by Anna Feigenbaum. While I believe that in this situation women must be able to unite and be recognized as able to dump internalized sexism, I acknowledge the importance of society to realize that although we work together, we are not the same—a separation difficult for a binary-filled world to grasp. And Riot Grrl's reluctance to "sell out" instills a real-fake binary, a hindrance to feminism in music or music in general. Why can't women make a living off of creating feminist-positive music that spreads their message to the masses?
Post-Grrl: Angry Womyn/Foxcore
When the new wave of women in music hitting the sound waves soon after Riot Grrl, the media was ready to dub them "angry women", succeeding in coining the most popular and deluded idea of feminists in pop culture. The fact that men created that term trivialized the anger of female musicians. Bands like L7 appeared androgynous and other bands like Hole, The Nymphs, PJ Harvey, and Babes in Toyland stood out from male grunge bands. Yet their male counterparts supported their woman peers, no longer objectifying them and even sometimes seeking to adopt their look as grunge played with cross-dressing and gender-bending roles.
And when Sonic Youth's Thurston Moore created the controversial term "foxcore", he did so with the satirical eye-roll of most men involved in the movement; if he were truly serious as some feminists suspected, his now-wife and then band-mate Kim Gordon (supportive of feminism and the Riot Grrl movement) would have had a thing or two to say. The mainstream media adopted the term, unaware of Moore's sarcastic intent when describingloud, female-fronted groups, and "foxcore" became an umbrella term for female-led bands in the 1990s. Sonic Youth included many pro-women lyrics in their songs, such as in "Kool Thing": "I just wanna know, what are you gonna do for me?/I mean, are you gonna liberate us girls/From male white corporate oppression?/…Fear of a female planet?" As exemplified with this lyric, these bands held similar goals to that of Riot Grrl in challenging the corporate world—yet there were many, many differences between the two groups of musicians.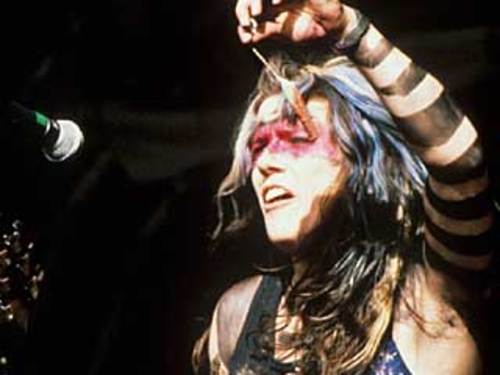 Similar to Riot Grrl, the Angry Womyn wave contained mostly female rock bands that made loud, metallic music with powerful emotional themes. The names of songs and albums combine femininity and anger, and many band names referenced female stereotypes and anatomy (Hole, Babes in Toyland). Yet the goal for this group of musicians was rocking out, not necessarily revolution—unlike Riot Grrl. The new musicians sought to draw attention to culturally taboo parts that were seen as too feminine for rock and roll—and they did so in a highly publicized way, such as an incident in which the lead singer of L7, Donita Sparks, removed her used tampon on stage and flung it into an unruly audience.
The bands gave the popular media what it wanted, and as a consequence, Foxcore amounted to success Riot Grrl never imagined—nor wished—to receive. They had music videos on MTV and signed to major record labels, showing that women can finally make a living by creating music and have enough financial security to provide for themselves and their family. The poster-woman for success within the movement, Courtney Love, publicly voiced her ambition for success—loudly and unabashedly. The "kinderwhore" look adopted by Love and many of the other musicians of the movement represents the dichotomy into which women must divide within society: a clearly feminine look, with confused internal conflicts manifested through unkempt hair, smeared makeup, and dirty and torn clothes. Despite all of the critiques of "selling out" within the grunge movement, Foxcore finally provided the mainstream with the messages of angry women, managing to still hold onto the punk ethos of sex, drugs, music, and generally not giving a shit.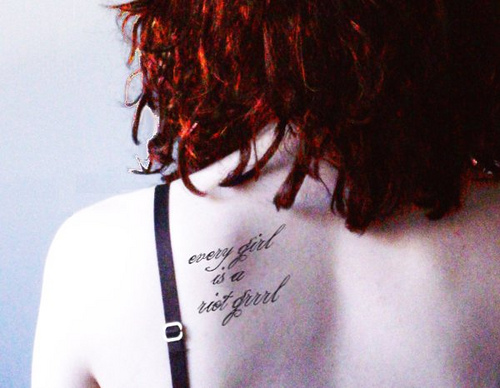 Post-Grunge to Today
Foxcore paved the way for more women musicians to find their way into the mainstream, but once these more sellable artists achieved status, the women of grunge found themselves once again struggling for success. Young musicians like Alanis Morrisette and Fiona Apple dominated the airwaves, still singing songs about sexual abuse and female issues, but with appearances easier for the public to digest; i.e., pretty and nonthreatening. Women in music continued to be represented as more and more docile, less and less threatening; the Spice Girls beat the term "Girl Power" into the minds of young girls and onto t-shirts in every mall in America and Europe, symbolizing the ultimate commercialization of the empowerment of young girls—and the market reached significantly younger than that of Riot Grrl and Foxcore. Five-year-old girls chanted girl power and lusted after the high-heels and makeup donned by the women in bubblegum pop, praising Britney Spears and Christina Aguilera. While these artists slipped into the mainstream because of the popular demand for female bands, the term "Girl Power" was exploited and then ultimately forgotten. Female representation in music downgraded to objectification once more, but this time under the guise of empowerment.
Women finally had some sort of strong representation in music mainstream, but whether or not it was the representation healthy for young girls and women is strongly debatable. Sure, the songs flout female sexuality, but it is in a manner which allows the woman to be the object, not the subject, and the appearance of Britney Spears as a hyper-sexualized schoolgirl really raises the question of how badly we need this representation, especially when aimed to a younger demographic. Now, the music industry helps objectify girls at younger ages by aiming potential role models clad in heels, make up, and revealing clothing at them. Once again, the mainstream media focuses on fashion rather than content, and therefore perpetuates harmful anti-feminist propaganda into the masses.
While today's radio waves are mostly dominated with hits by the Britneys and Mileys of the world, young women are beginning to turn to other bands and musicians that hold values similar to those of Riot Grrl. Le Tigre, Bikini Kill's Kathleen Hanna's new band, writes odes to proto-punk goddesses and feminist theorists like Gertrude Stein, and similarly, young women are looking back to past movements for musical release and inspiration. The Yeah Yeah Yeahs, fronted by the beautiful and often androgynous Karen O, create strongly punk-influenced music with lyrics full of female sexual content—with the woman as the subject of the fantasy, such as in the song "Bang!" in which she chants, "As a fuck son, you sucked". Karen O yelps, squeals, howls, growls, and makes other inhuman noises characteristic of punk music while donning bizarre outfits and a bowl haircut. And oh yeah, she's Korean—not "white"—and accepted as a talented, kickass musician (she has also composed a movie soundtrack for Where the Wild Things Are, maintains a solo side project, and helps up-and-coming bands by performing with them and producing tracks). The Yeah Yeah Yeahs and Le Tigre are two successful bands among the alternative crowd, and if you dig deeper, you'll find many more powerful, female-led or female-only rock and folk bands voicing their experiences and struggling against the grain of a finely-combed patriarchal society.
Riot Grrl ideas still thrive in alternative music, grrl zines, and pro-women conferences and Ladyfests, created or organized by passionate, intelligent women looking to share their struggles and provide community in a society that encourages individualism for optimal consumerism. Bands release songs and entire albums online for free, eliminating the middle man and spreading their "woman agenda" to anybody with access to the internet—something I'm sure the Riot Grrl movement would have done if it had as much access to the web. As feminist propaganda continues to circulate in the underground, it is only a small question of when it will re-emerge as another wave like Riot Grrl, and what lessons will the women involved have learned.
Much like punk music, feminism has appeared to die with every emergence into pop culture. I believe this is simply because the popular culture ends up attempting to turn every surfacing into a commercialized product because of the capitalist nation in which we live. But it is a movement of strong ideals that challenges the way everybody involved thinks, and only those of the most open minds become the fervent supporters the movement needs—supporters who can acknowledge, accept, and use differences to provide every individual with equality. And it raises many que stions about American society when a challenging, engaging ideology cannot survive in the mainstream, but thrives in the underground among outcasts, open-minded individuals, and people actively seeking stimulation outside of the mainstream. If only mainstream, capitalist American society were not so binary-centric, phallo-centric, power-centric, and self-centric, it would acknowledge—like I have since I was little—that rock is not sex-/gender-identity specific. The world would be a much better place if everyone realized women are just as awesome as men.
---
Works Cited
Meltzer, Marisa. Girl Power: The Nineties Revolution in Music. 1st ed. New York City: Feber and Faber, Inc., 2010. Print.
Feigenbaum, Anna. "Remapping the Resonances of Riot Grrl: Feminisms, Postfeminisms, and "Processes" of Punk." Interrogating Post Feminism: Gender and the Politics of Popular Culture. Ed. Yvonne Tasker and Diane Negra. London: Duke University Press, 2007. Print.
Schilt, Kristen and Zobl, Elke. "Connecting the Dots: Riot Grrls, Ladyfests, and the International Grrl Zine Network." Next Wave Cultures: Feminism, Subcultures, Activism. Ed. Anita Harris. New York City: Routledge, 2008. Print.
Albrecht-Samarasinha, Leah Lilith. "Sticks and Stones May Break My Bones." A Girl's Guide to Taking over the World: Writings from the Girl Zine Revolution. Ed. Karen Green and Tristan Taormino. New York City: St. Martin's Press, 1997. Print.
Ragonese, Marisa. "Riot Grrls Castrate 'Cock Rock' in New York." Off Our Backs May/June 2002: 27-31. Web. 6 May 2010. .

Zobl, Elke. "Revolution Grrl and Lady Style, Now!." Peace Review Dec 2004: 445-52. Web. 6 May 2010. .

Beyette, Beverly. "Around Town." LA Times Oct (1993): n. pag. Web. 8 May 2010. .
See Also
The History of Riot Grrls in Music