Toronto Website Design &amp Toronto SEO
BREASTFEEDING FRENZY
People's reaction to breastfeeding and bare breasts reflects revulsion at the body. Such harmful attitudes shouldn't override the law.
By P. Rapoport
Even though it's not yet summer, there have already been incidents where women with exposed breasts have encountered trouble. Recently, Julia Goforth was removed from a Niagara Falls YMCA, and Shannon Wray was told to leave an indoor pool in Hamilton. Both were breastfeeding. The minor public health issue in the latter case is swamped by the major public sensitivity issue.
Letters in this newspaper said that Ms. Wray was insensitive to breastfeed in view of others. Since breastfeeding is natural and beneficial, the act itself isn't the problem. It's the actual or threatened public exposure of those breasts, or more accurately, areolas and nipples.
Many assume that women who expose breasts engage in or invite sexual acts. This assumption is created and maintained by heterosexual men. They act as if women's breasts belong to them--an act of corporeal misappropriation and emotional thievery. No wonder many women won't breastfeed in public!
A corollary is that men seeing women's breasts can't control themselves. It's false. It also sounds like the old and discredited notion that women are "asking for it" in dressing or not dressing a certain way.
Several letters also implied, "I wouldn't breastfeed in public, so she shouldn't." Aside from the defective logic, this represents the kind of coercion our laws are designed to prevent.
At the heart of the matter is the issue of offense. People have the right to be offended. They do not have the right to remove their offense by removing others who are causing no harm. It would help if people unsettled at the thought of women breastfeeding or uncovering their breasts in public would recognize the source of what is mostly their own problem.
That source is often revulsion at the body. It helps produce calamities---mostly for women---such as bulimia/anorexia, low self-esteem, mutilating surgery, reduced breastfeeding, and sexual dysfunction. Not least is the debilitating body shame and guilt adults lay on children, based on peculiar and damaging adult phobias.
But where does all that come from? Two major places: misapplication of Freudian ideas---some of them untenable in the first place---and misunderstanding of religion, often manifested in inappropriate use of Christian scripture. Not least is the precept that the mind is pure and the body is filthy. That attitude doesn't do much for the temple of the soul, or human beings created in God's image.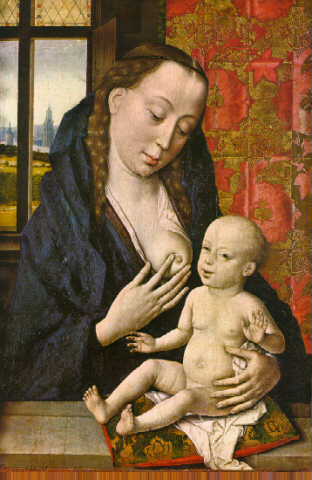 Disgust at women's breasts causes women to live their entire socially conscious lives as if there is something bad or wrong about the upper parts of their bodies but not men's. Why? Because men say so. Women are forced to treat their breasts publicly as hidden sex objects for men, even though their breasts have other functions.
An Ontario Court of Appeal ruling in 1996 made much of this clear, and the Canadian Charter of Rights and Freedoms forbids discrimination on the basis of sex. Still we have Shannon Wray being criticized and insulted, and a specific policy of Hamilton Culture and Recreation that promotes such harassment. Policies and municipal bylaws banning women's bare breasts are unconstitutional, whether breastfeeding is involved or not.
Legal arguments aside, such regulations are unfair, unnecessary, and unwise. Women have brains. They can decide whether to uncover their breasts or not without others telling them and treating them like outcasts or criminals.
Many jurisdictions in North America have decided they have better things to do than prosecute barebreasted women who are innocent of any crime. Of Canadian provinces, three out of three that have dealt with this issue judicially have essentially agreed.
Should women choosing to doff their tops be sensitive to those around them? Of course. So should everyone else. But you can't legislate sensitivity. What happens when sensitivities collide? Perhaps Shannon Wray could have explained nicely what her rights and wishes were, at least to breastfeed in the pool area. Then others might have understood.
But she is hardly required to do that. Those decrying Ms. Wray should recognize her sensitivities too, and educate themselves about what her rights are, why she has them, and the consequences of denying them.
[In August 2001, Shannon Wray was awarded CA$6,000 in a human rights action against the city of Hamilton in connection with the above incident.]
Special Thanks to TopFree.ca