Toronto Website Design &amp Toronto SEO
Beauty and the Breast
BEAUTY AND THE BREAST: AN ART EXHIBITION
By Allison Roberts
Allison Roberts, a student at Bellevue Community College, Washington, coordinated its art show Beauty and the Breast on June 1, 2001.
---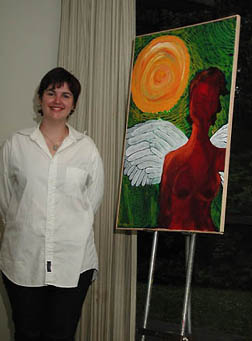 Right: Allison Roberts and her painting "American Woman".
Although I do not consider myself an activist, I felt compelled to work on this project from the moment I heard about it. Maybe my perspective will inspire people a little, or at least inspire some thought about topfreedom, sexualization, and body image.
In the US today, the average 7-year-old girl has been on at least two diets. Younger and younger girls are influenced by our culture's constant pressure to conform to an unrealistic body expectation. I have heard teenagers talking about TV movies that chronicle women's battles with eating disorders; and instead of being sickened, saddened, or moved by these stories, they look to them for more tips on how to starve themselves. A recent documentary on bulimia stated that the no. 1 inspiration for girls with eating disorders is the movies and books intended to stop them. They think they're glamorous.
Virtually every woman I know has resorted to drastic measures to obtain what our culture teaches is the "ideal" body. What we consider that body to be is probably a very sick one. Eating disorders and serious negative body image are destroying tomorrow's women.
Now, how does this tie into topfreedom?
Even at the age of 27, I have probably seen only 10 or 15 pairs of real breasts. Most of my knowledge about breasts comes from movies and magazines. But actresses use body doubles to give the illusion of a more "perfect" body, and photographs of models have been airbrushed to remove any "unsightly" bumps or discoloration. These women, whom we consider ideal, represent a mere 1% of society.
When girls as young as 12 talk about getting breast implants based on this standard, I say we have a serious problem. Three 14-year-old girls have told me separately that they need breast enlargement surgery, with nothing to base their body hatred on but a stolen copy of Playboy. How can a girl who has little to no idea what real breasts look like be expected to accept her own body as normal and natural? How can we teach our children that our bodies belong to us and are perfect as they are, if we are also teaching them that their breasts are merely dangerous sexual objects to be hidden?
How can we say that to view a woman's breasts will damage children, when it is so clear what not seeing them is doing?
We pulled this show together in just under two weeks. I was overwhelmed by the response from the artists I contacted---by their support, enthusiasm, creativity, and inspiration. It was both a gift and a pleasure to work on the show, to spend even two weeks on something I believe in passionately.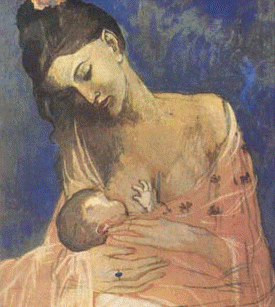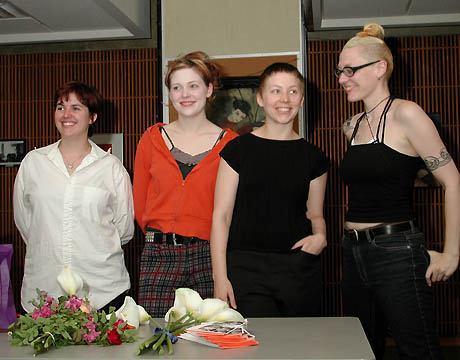 Special Thanks to TopFree.ca