Toronto Website Design &amp Toronto SEO
A Vindication of the Rights of Woman, With Strictures on Political and Moral Subjects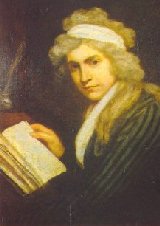 By Mary Wollstonecraft, 1792. Edited by Suzanne MacNevin, 2006.
Wollstonecraft preached that intellect will always govern and sought "to persuade women to endeavour to acquire strength, both of mind and body, and to convince them that the soft phrases, susceptibility of heart, delicacy of sentiment, and refinement of taste, are almost synonimous [sic] with epithets of weakness."
CHAPTER I.
The rights and involved duties of mankind considered.
CHAPTER II.
The prevailing opinion of a sexual character discussed.
CHAPTER III.
The same subject continued.
CHAPTER IV.
Observations on the state of degradation of woman.
CHAPTER V.
Thoughts on writers who have rendered women objects of pity and contempt.
CHAPTER VI.
The effect which an early association of ideas has upon the character.
CHAPTER VII.
Modesty.—Comprehensively considered, and not as a sexual virtue.
CHAPTER VIII.
Morality undermined by sexual notions of the importance of a good reputation.
CHAPTER IX.
The effects which arise from the unnatural distinctions established in society.
CHAPTER X.
Parental affection.
CHAPTER XI.
Duty to parents.
CHAPTER XII.
On national education.
CHAPTER XIII.
Instances of the folly which the ignorance of women generates; With conclusions.
"It would be an endless task to trace the variety of meannesses, cares, and sorrows, into which women are plunged by the prevailing opinion, that they were created rather to feel than reason, and that all the power they obtain, must be obtained by their charms and weakness." -Mary Wollstonecraft.
---
Biography of Mary Wollstonecraft, 1759–1797.
Irish/British writer. Her father was a spend-thrift of bad habits, and at 19 Mary left home to make her way in the world. Her next ten years were spent as companion to a lady, in teaching a school at Newington Green, and as governess in the family of Lord Kingsborough.
In 1784 she assisted her sister to escape from a husband who ill-treated her. In 1788 she took to translating, and became literary adviser to Johnson the publisher, through whom she became known to many of the literary people of the day, as well as to certain Radicals, including Godwin, Paine, Priestly, and Fuseli, the painter.
She then, 1792, went to Paris, where she met Captain Imlay, with whom she formed a connection, the fruit of which was her daughter Fanny. Captain Imlay having deserted her, she tried to commit suicide at Putney Bridge, but was rescued.
Thereafter she resumed her literary labours, and lived with W. Godwin, who married her in 1797. Their daughter, Mary, whose birth she did not survive, became the second wife of Shelley. Her chief original writings are a Reply to Burke's Reflections on the French Revolution (1791), Vindication of the Rights of Women (1792), and Original Stories for Children, illustrated by William Blake.
Her Vindication received much adverse criticism on account of its extreme positions and over-plainness of speech.
Her daughter (Mary Wollstonecraft Shelley) wrote Frankenstein, Falkner and The Last Man.
Major Works
Maria; or The Wrongs of Woman.
Vindication of the Rights of Woman.
Letters written during a short residence in Sweden, Norway and Denmark.