Toronto Website Design &amp Toronto SEO
Beauty & Fashion Vs. Feminism
By Craig Chamberlain
"Feminism has suffered because of its views on beauty and fashion." - Linda Scott.
CHAMPAIGN, Ill. — Feminism needs to end its long obsession with the politics of personal appearance, and get past its dim view of beauty, says author Linda Scott, who describes herself as a feminist.
It's an issue that has divided women much more than it has aided their cause, Scott says in a new book she wrote with young women in mind. She is a professor of advertising and of gender and women's studies at the University of Illinois at Urbana-Champaign.
In "Fresh Lipstick: Redressing Fashion and Feminism" (Palgrave Macmillan), to be published in January, Scott takes on the "antibeauty ideology" that she says has dominated feminist thinking about dress and personal appearance for 150 years. In the process, she essentially writes a new history of the women's movement, revising or amending much of commonly accepted feminist history.
"Feminist writers have consistently argued that a woman's attempt to cultivate her appearance makes her a dupe of fashion, the plaything of men, and thus a collaborator in her own oppression," Scott wrote in the book's introduction. "Though this wisdom has seldom been open to question as a matter of principle, it has always produced discord at the level of practice."
In practice, the issue of personal appearance has been used repeatedly as an instrument of power and control within the women's movement, reinforcing biases of class, education and ethnicity, Scott wrote. "In every generation, the women with more education, more leisure, and more connections to institutions of power – from the church to the press to the university – have been the ones who tried to tell other women what they must wear in order to be liberated."
Scott points out that people in every culture and throughout history have groomed and decorated themselves, and for a complex variety of reasons, not just sexual attraction. Feminists have often advocated a more "natural" appearance, but what is natural is for people to alter their appearance, Scott wrote. Even the concept of what is natural is tied to one's culture.
Feminists also have defined "natural" only in negative terms, usually criticizing "whatever the prevailing fashion found attractive," Scott wrote.
The founding group of feminists, including Susan B. Anthony and Elizabeth Cady Stanton, were rooted in an upper-class Puritan tradition that strongly influenced their attitude about dress and personal appearance, Scott wrote. "In their calls for simplicity of dress, (they) were echoing years of conservative tradition in their own community, rather than making a ground-breaking critique as is often claimed," she wrote.
Scott documents in her book how the call for plain and prim dress has been passed down through the generations, justified in different ways by successive groups who thought themselves the true feminists. She sees the Puritan influence continuing to the present day. "Consistently, feminist criticism will interpret an ad (or film or a fashion) until it can be shown to be a temptation aimed at the male gaze – and then stops. The implication is that if a dress, a picture, or a hairstyle is sexy, it is ipso facto oppressive."
A key basis for that criticism has been the claim that fashion was dictated by fashion and cosmetics industries controlled by men. But in her study of 150 years of fashion history, Scott said she found that "the men have little or nothing to say about it." It has been "clearly a woman's game," and to an extent she was surprised to discover. Even the beauty ads were written mostly by women.
In her book, Scott also tells the stories of numerous women who were influential in their fields and in the cause of women's rights, but who have largely been ignored or intentionally forgotten. Their attitudes about dress, sexuality or other related topics didn't fit with those of the movement.
Scott said that part of her motivation for researching and writing "Fresh Lipstick" came from personal history. As an 18-year-old college student and recent convert to feminism in 1970, she paid a visit to a feminist consciousness-raising group. "I was treated so badly for the way I was dressed that I never went back," she said.
And she has since found that hers was a very common experience for many women at the time, as they came in contact with a more-radical campus feminism that Scott says was in the process of "hijacking" the "Second Wave" of the women's movement.
Scott said she originally intended to write a more-narrow academic book, but spent extra time rewriting the book for a general audience, and for young women in particular. She believes a "Third Wave" of feminism, with different notions about dress and sexuality, is taking shape within this age group, and wants to encourage them.
She also believes there are simply more important issues, especially when looking at the status of women in a global context.
"Voices from around the world report a variety of conditions and systems under which only one thing holds constant – the universal second-class status of females. If there was ever a moment when the women of one culture had a responsibility toward their sisters in other nations, this is it. We should not waste time quibbling over what to wear to the conflict."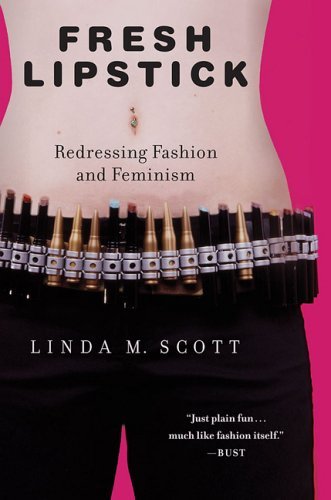 ---
Other Topics Concerning Fashion & Feminism: